This recently renovated five-star hotel is one of the most popular destinations in Halkidiki and a 2020 winner of Trip Advisor's Traveler's Choice Best of the Best.
Anthemus Sea Beach can be found about halfway down the Sithonia peninsula, the middle peninsula of Halkidiki, on 38,000 m2 of west-facing Blue Flag beachfront property known as Elia Beach. Elia Beach is in a sheltered, 500 meter-long bay on the Elia Coast of Sithonia, and gives visitors stupendous sunset views every evening. Customers report that the hotel is five-star, without the five-star prices, and rave about the friendly, conscientious staff.
The hotel is perfectly set up for families, with special provisions for children, such as lifeguard-monitored swimming pools. It blends in well with the surroundings, and, this being a relatively undeveloped area of Halkidiki, there are no large resorts cheek by jowl with Anthemus Sea Beach, keeping the environment pristine and perfect for vacationers seeking affordable luxury accommodations in peaceful surroundings.
Rooms
There are 200 elegant rooms and suites in four categories. All rooms feature modern and high-quality amenities, have a bathroom with bathtub, and a private balcony or terrace with garden, pool or sea views. Other amenities include satellite TV, pool and beach towels, bath amenities, The bigger suites can accommodate up to four persons, and have bathrooms with bathtub and separate rain shower cabin, and free WiFi.
Double Superior Rooms
Modern rooms, overlooking the garden, the sea or the pools. A good choice for a comfortable, economical stay. King-size bed.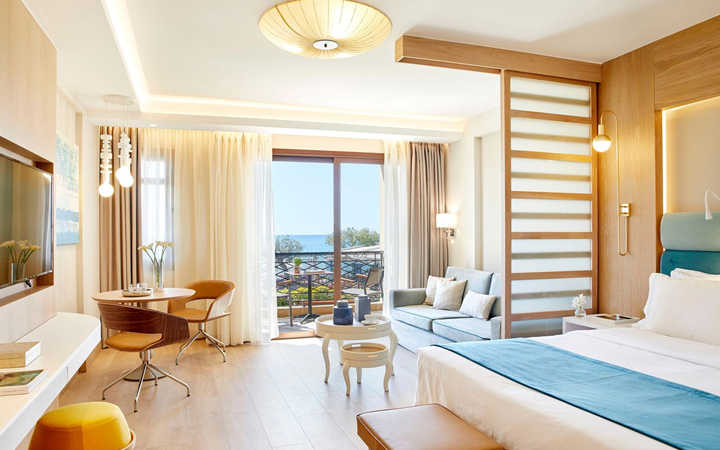 Junior Suites
These lovely suites offer simplicity and luxury in equal measures. Spacious rooms with comfortable interiors make them a perfect choice for families with up to 4 members. There are three categories: Garden View, Pool or Sea View, and the Sea Front Junior Suite with premium location fronting the beach and its magnificent sea views. Luggage storage. Wheel chair accessible.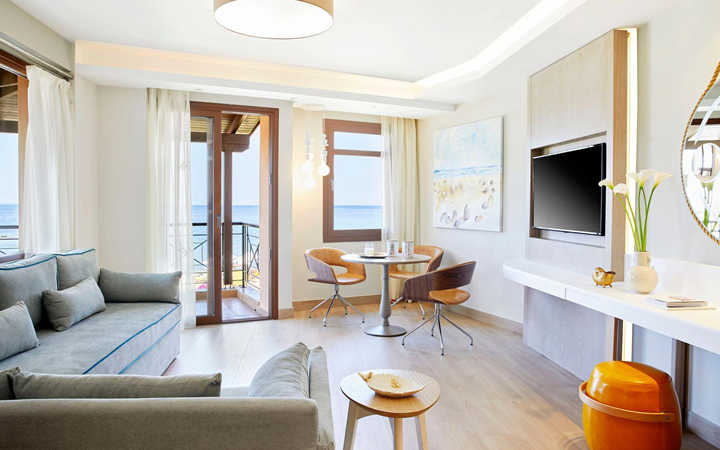 Deluxe Suites
Luxurious suites with garden or pool/sea views, bigger than the Junior suites, offering room to roam. Features a breakfast nook, full-length mirrored wardrobes, and private balcony. Both one-level and two-level (maisonette) options have a bedroom and separate living room. Wedding or anniversary turndown service and welcome present. Wheelchair accessible.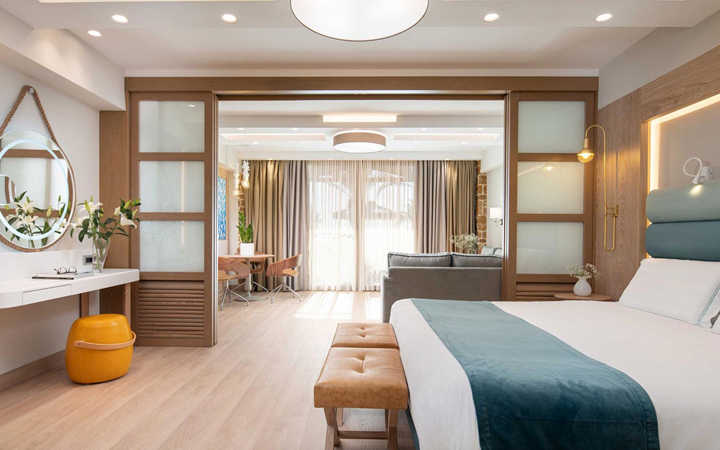 Wellness Suite Sea Front
Located on the ground floor on the seafront, closest walking distance to the beach and the Spa, this suite offers room to roam. Features a floating desk with wall mirror. Includes private heated pool of 14m2. A terrific choice for best views, roominess, and sheer comfort.
Food and Drink
Anthemus Sea Beach offers three restaurants with open-air and indoor floor plans. Menus feature Greek and international cuisine. There are also bars that invite you to relax, imbibe, and soak in the rich warmth of the Mediterranean summer whilst gazing at the ever-changing sea and the surrounding countryside.
The main restaurant, Elia (Olive), serves buffet breakfast and dinner. Greek and international favorites can be found on the menu. The restaurant's glass wall allows you to watch the chefs create their magic.
Yialos (Seashore) a la carte tavern serves traditional meals, seafood, and fresh grilled fish.
Horizon is a piano bar and gourmet restaurant with an international menu, plus a variety of local traditional recipes, in a beautifully romantic atmosphere. The breezy roof garden bar affords unforgettable panoramic views.
Ammos (Sand) beach and pool bar is everything you would want from a beach and pool bar: lots of drinks, both soft and not so soft, beer, coffee, a menu of snacks and sandwiches, desserts, and exotic cocktails in the evening to accompany the live music performances, all enhanced by the bar's proximity to the water.
Spa and Wellness
The Oriental SPA center is a place to completely relax and re-acquire your sense of wellbeing. A team of specialists from Thailand offers various types of massage and beauty treatments, employing Thalgo brand products. And if that weren't enough, there is also a sauna, steam bath, whirlpool, heated indoor fresh-water pool, and a fitness room.
Activities
Anthemus Sea offers a wide range of activities, including daily stage shows in the hotel's theater, featuring traditional Greek dances, karaoke, and evenings with live piano music at the Horizon Roof Garden.
There are all kinds of sport activities, including water sports, scuba diving, beach volleyball, tennis, mountain biking and hiking. There is a fully-equipped fitness center. Golf, yachting and boat rentals can be organized on request.
Pools and Beaches
There are three lagoon-shaped pools, one with a charming center island, and a high level of water purity, thanks to ozone filters, served by the Ammos Beach Bar. The main pool and the children' pool are heated to a temperature of 25-27° in April, May, September and October.
The broad, sandy Elia beach has earned the coveted EU Blue Flag, and Green Key for its cleanliness, high-quality services, and safety. Its crystal clear, shallow waters are perfect for families with children. Free sunbeds and umbrellas, lifeguards, the beach bar, and stunning sunset views make every minute of your time on the beach worthwhile and memorable.
Fun for Kids
Anthemus Kid's Club is like a living fairytale area within the resort, especially designed for the pleasure of kids from ages 4-12. There you'll find:
Brightly-coloured benches and tables, with shelves full of paints, pencils, and toys
A world of costumes, crafts, events, and competitions
Qualified, multilingual staff guaranteeing and guiding childrens' entertainment in a safe, healthy direction.
Evening entertainment programs with professional-level stage shows for the whole family.
Games in a separate children's pool.
Indoor and outdoor playgrounds.
In the Area
Just outside the Hotel complex is a bus stop which will take you to nearby villages daily. The closest village are Neos Marmaras (7 km) and Nikiti (12 km). Porto Carras marina and golf club - 12 km, and Thessaloniki , Greece's Second City, 105 km.
Special Offers
Book your stay directly from the official website of Anthemus Sea Beach Hotel & Spa and save:
5%
Extra discount offered by Grecomap
Click on Grecomap's "Book now" button to save an extra 5% off on your stay at Anthemus Sea Beach Hotel & Spa. Applies to any additional offers.
5%
Extra discount by Hotel's Loyalty Club
This discount is not applied to room rates which you currently see on our website. In order to take full advantage of this additional discount, please join the hotel's Loyalty Club first. Then you should kindly make your booking.