Possibly the finest adults-only small luxury hotel in Kos, Aqua Blu Boutique Hotel & Spa has it all: great food, wonderful service, luxurious rooms, and an unforgettable spa experience.
On Kos, one of the most pleasant of the Dodecanese, that grouping of islands off the southwest coast of Turkey, Aqua Blu Boutique Hotel & Spa has a prime location near the northern tip of the triangular Northern Lighthouse Peninsula, about a 20-minute walk north of the central harbour of Kos Town.
The hotel packs a lot of punch for the bit more than an acre of ground it occupies: you'll find 53 luxuriously appointed suites, a world-class restaurant, state of the art spa, a constant, refreshing peninsular sea breeze, and an environment totally conducive to deep, rejuvenating rest and relaxation.
Aqua Blu Boutique Hotel & Spa has won multiple awards, viz, Tripadvisor's Traveler's Choice, Greek Boutique Hotel of the Year (Bronze), and multiple World Luxury Hotel Awards Global Awards in the Luxury Boutique Hotel category.
Suites
The suites at Aqua Blu Boutique Hotel & Spa are elegantly understated. Shades of brown, from chocolate to tan, predominate.
The layout is efficient, modern, simple, and functional, giving rest to the eye and making you feel at home the minute you walk in. Soft, indirect lighting and oak flooring add to the warm atmosphere.
Amenities include twice daily maid service, free Wi-Fi throughout the hotel, 24-hour concierge and room service, comfy sun beds and umbrellas at poolside and at the beach, furnished balcony or terrace, beach and pool towels, coffee and tea making facilities, designer furnishings, safe deposit box, laundry and ironing service, hairdryer, flat screen TV with cable, satellite  and movie channels, magnifying mirror, bath amenities, and individually controlled AC.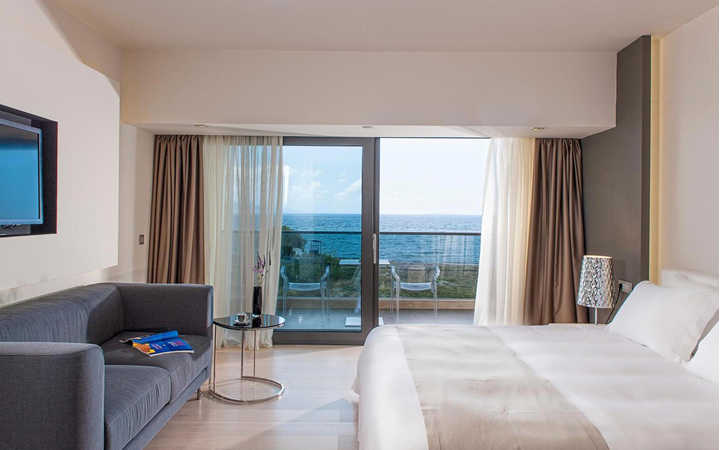 Double Suites
Double Suite Side Sea View has a king size or two full size beds,  separate toilet area in the bathroom, and floor to ceiling windows for the fullest amount of daylight possible.  View is of the grounds, and, indirectly, of the sea.
Double Suite Sea View offers a view from its balcony of  palmettos, sea grass, a strip of beach, and the sea, with the headlands of Turkey off in the distance. The view is wild and undeveloped, and makes you feel as if you're on your own private island.
Double Suite Direct Sea View differs from the Double Suite Sea View in that the suite is situated in the building so that the sea is much closer. At 25m2 it's also a bit smaller.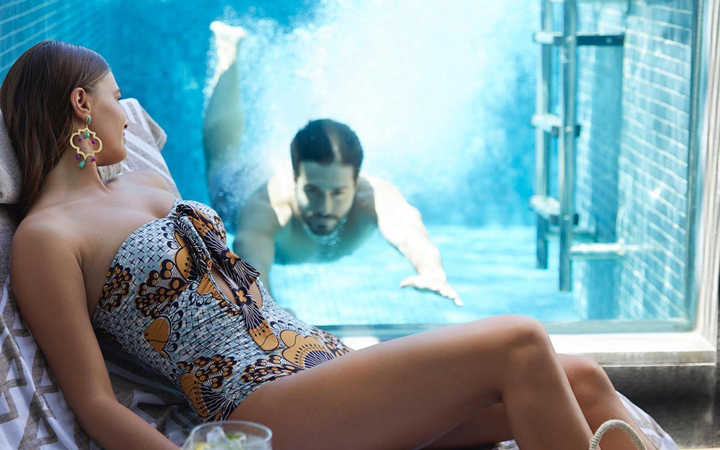 Pool Experience Suite
The Pool Experience Suite selling point is your own private splash pool outside the suite's sliding glass doors. What's interesting about the pool is that a lot of it is above the level of the terrace, and the meter or so height that the water level is above the terrace is enclosed by a glass wall, giving you a view of the pool's waters to that depth, creating an aquarium effect. Absolutely lovely design feature.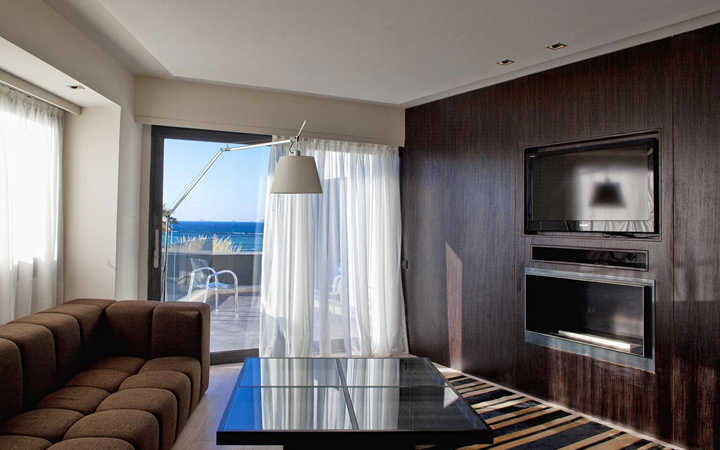 Deluxe Suite with Sea View
This second-largest suite at the Aqua Blu Hotel gives you an inspiring view of the sea, and room to roam. The living and bedroom areas are separated by a waist-high wall, and its corner location floods the suite with light from two sides, with an inspiring view of the sea from one side, and a great sea panorama from the furnished balcony. There is a Jacuzzi bath in the spacious bathroom.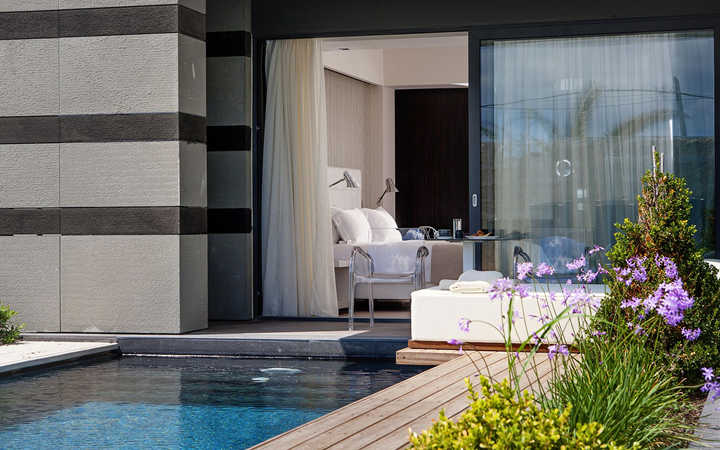 Pool Signature Suite
This roomy suite complete with pool terrace, private pool and Jacuzzi is just the thing for water lovers. Bathroom has separate cabinet for the toilet, and the pool area is enclosed by a privacy wall.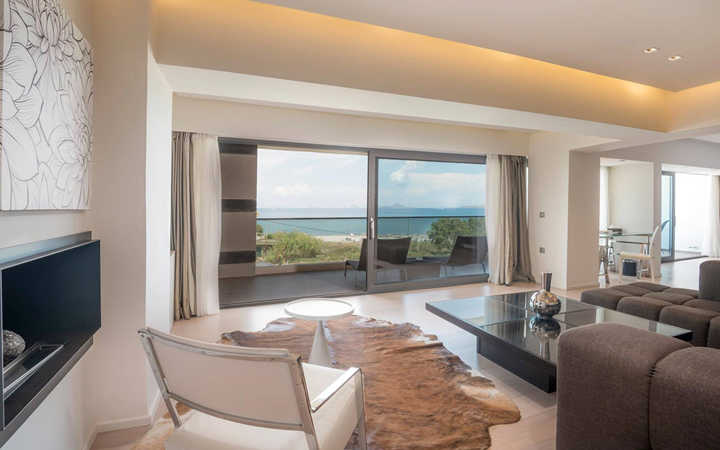 The Aqua Blu Loft Suite
This apartment-sized suite has it all: a private open bar, double-wide terrace, an entire wall of floor to ceiling glass which lights up every nook and cranny, a stunning Aegean Sea view, extra-wide king size bed, walk in closet, Jacuzzi bath, marble-clad bathroom, glass shower cabinet, and tons of amenities. You'll know you've arrived when you walk into this lovely, extra-large suite.
Food and Drink
Cuvee Restaurant Aqua Blu's flagship, has been voted "best restaurant on Kos" for the last three years, and if you dine there, you'll understand why. The outdoor deck is separated from the indoor restaurant by a glass wall, the furnishings are impeccably tasteful, and the view from the deck of the sea and the sunset is unforgettable. But it's the food that makes the restaurant, and Curvee is no exception. The main menu features a contemporary version of classic Greek cuisine presented by executive chef Konstandinos Daskalakis and Michelin-starred consulting chef Pavlos Kyriakis, who make dining at Curvee a continual, memory-making gastronomic pleasure.
Some favorite menu items include King Crab with passion fruit, watermelon radish and avocado, Grouper with egg and lemon sauce, lamb with sesame pasteli, followed by dessert offerings such as galaktoboureko, tarts, and chocolate and crispy caramel mousse.
The Sips and Bites restaurant bar is the stylish, ultra modern place for all things liquid, whether alcoholic or non, and simple, quickly prepared food, all to the sounds of understated music and beautiful views of the pool and beach. Menu items include Greek Salad, Chicken Salad, Greek Gyros, Black Angus Burgers, and Fish and Chips, with a wide selection of wines, beers, cocktails, and soft drinks, coffees and teas.
Spa and Wellness
The Tamaris Spa is the ultimate in elegance, relaxation, and rejuvenation. There are 8 different massage techniques to choose from (full body, facials, head, legs etc.), in addition to a Roman hammam with aroma therapy and an indoors thermal pool.
There is a fully equipped exercise room with a full complement of free weights and machines for that complete body workout.
Spa packages are available for multi-day visits at a discount.
In the Area
As mentioned, Kos Town's just a twenty-minute walk from Aqua Blu. Once there, you can enjoy the scenic waterfront, dine out at any number of fine local restaurants, or enjoy a bit of nightlife. Kardemaina, about 20km away on the other side of the island, is also noted for its night life.
Kos's main claim to fame is that it is the birthplace of Hippocrates, father of medicine. A visit to Asklepeion is on top of most history lovers' list. About 4km SE of Kos town, this is thought to be the site of the world's first hospital, built in honor of Hippocrates. Here he taught the healing arts to his students. The ruins are close to a natural spring. The site affords a nice panoramic view of Kos Town.
In Kos Town the Hippocrates Tree is a massive, 500 year-old plane tree, thought to be a direct descendant of the original plane tree under which he taught some 2,400 years ago. Near the harbor is the Neratzia Castle, built by the Knights Templar in the 15th century as a defense against the Ottoman Turks. The Kos Archeological Museum houses a great collection of Hellenistic (300's BC) to late Roman Period statues, as well as mosaics and pottery from the Asklepeion.
Other ancient sites on the island include the Roman Odeon theater, dating from the 2nd-3rd centuries, and the Ancient Agora  which was exposed by a 1933 earthquake. The Castle of Antimachia is a medieval fortress built by the Venetians in the 14th century and added to by the Knights of St. John in the late 15th century.
About 15km from Kos Town is Zia Village, famous for its spectacular sunset views which take in the entire island, neighboring islands, and the headlands of Turkey. Suset Safari Tours with dinner can be had for a reasonable price. Wineries and wine tours are also available on Kos, which produces some of the finest wines in the Aegean.
Day trips to nearby destinations, such as the off the beaten track island of Nysyros, with its active volcano are also available.
The Lido Water Park, at 75,000 m2 (18.5 acres) is one of the largest water parks in Greece,and can be found 25km outside of Kos Town.  The Kos Island Safari is a 7-hour, 4x4 tour of the entire island and takes you to some of the hidden pockets of the island, with lunch included at Zia village. Scuba diving day trips are also available, as well as boat cruises to Kalymnos, Plati, and Pserimos.
There is much to see and do on Kos and its environs, and the Aqua Blu Boutique Hotel couldn't be a better home base.
Special Offers
Book your stay directly from the official website of Aqua Blu Boutique Hotel & Spa and save:
Book in advance and save up to 10% off your stay
5%
Extra discount offered by Grecomap
Click on Grecomap's "Book now" button to save an extra 5% off on your stay at Aqua Blu Boutique Hotel & Spa. Applies to any additional offers.
10%
Extra discount by Hotel's Loyalty Club
This discount is not applied to room rates which you currently see on our website. In order to take full advantage of this additional discount, please join the hotel's Loyalty Club first. Then you should kindly make your booking.