Positioned just a few meters away from the most memorable blue domes in the world, Armenaki draws its name from a bay few know. Right there, between the iconic and the unknown, it's a retreat for those who enjoy the luxury of a hotel along with the discovery and adventure of an uncharted beach.
The thrilling view of the Caldera stands as the backdrop of every moment at Armenaki. The airy sense of floating above the Aegean is balanced by the earthly, calming mood inside the hotel's private spaces. Armenaki freshly redefines Cycladic style by fusing Santorini's traditional architecture with contemporary design through natural materials and earthy textures.
Rooms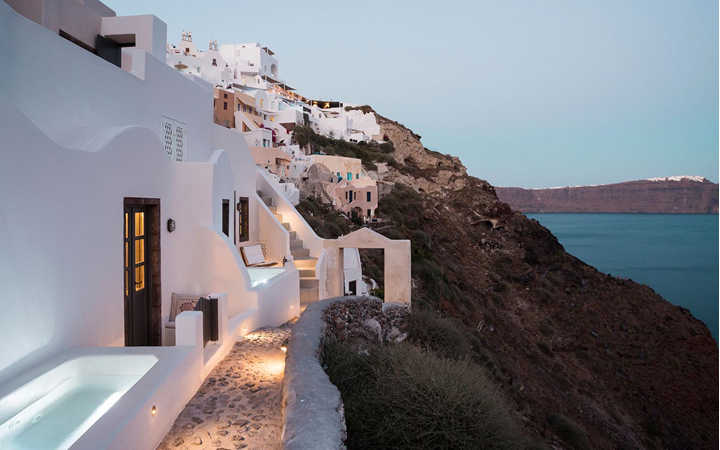 Cycladic Suite
The once humble simplicity and practical design of the Cycladic way of life is now a symbol of sophisticated minimal aesthetics. Our Cycladic Suites are a reference to Cycladic beauty, simplicity, and sense of familiarity. A fresh take on the traditional style of Santorini, where antiques coexist with airy fabrics and rich textures as well as ethnic touches that provide a tranquil sense to the sensational interiors and exteriors.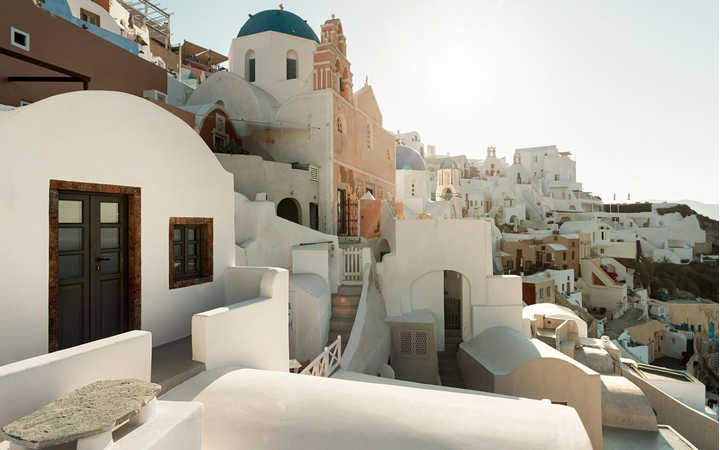 Cliff Nest
The most intimate Armenaki we could create. Perched upon the volcanic rocks, the superior Cliff Nest rooms embrace you with a sense of privacy, comfort, and intimacy so you can experience the most romantic version of Santorini with your other half. Take in the images and sensations and let your nest be a tranquil backdrop of earthy tones and elegant details so you can create your new memories inside it.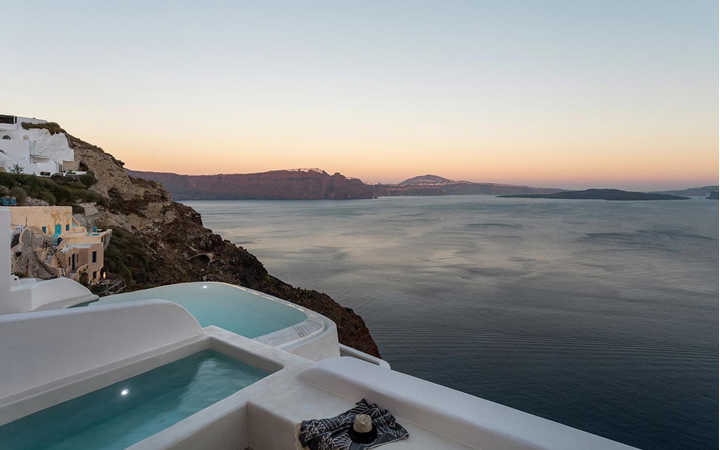 Alitana Suite
With comfortable and discreetly luxurious spaces that instantly inspire a sense of serenity in guests, Armenaki's Master Suites borrow their name from a Venetian word that had the meaning of 'garden' in the Santorinian dialect. Discover the charm of outdoor island life, enjoy the colorful dusk in the outdoor sitting area or relax in your plunge pool, all in your private 'alitana', where centuries ago locals used to keep their hanging herb gardens.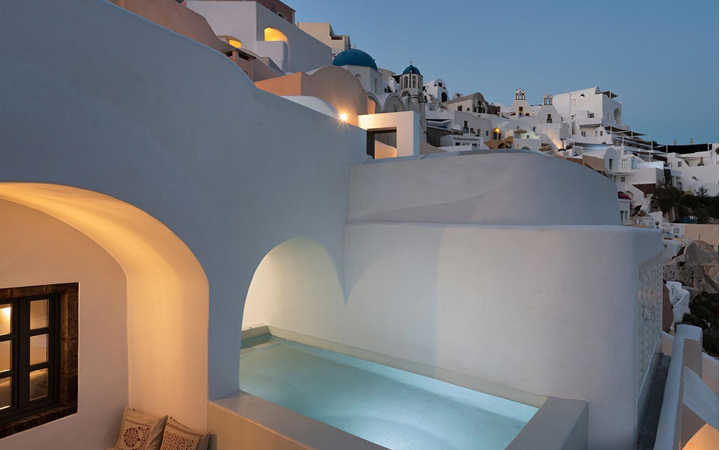 Cave Suite with Hammam
Dating back to the 9th century BC, Ancient Santorini was a crossroads between East and West. The fusion of these two cultures became the inspiration for the Cave Suite. A suite where the vaulted ceilings of Santorinian architecture blend with the steam of oriental hammams. Ideal for wellness and relaxation lovers, the Cave Suite features an original en-suite hammam, while in the outdoor area a plunge pool ends up in the privacy of your personal cave.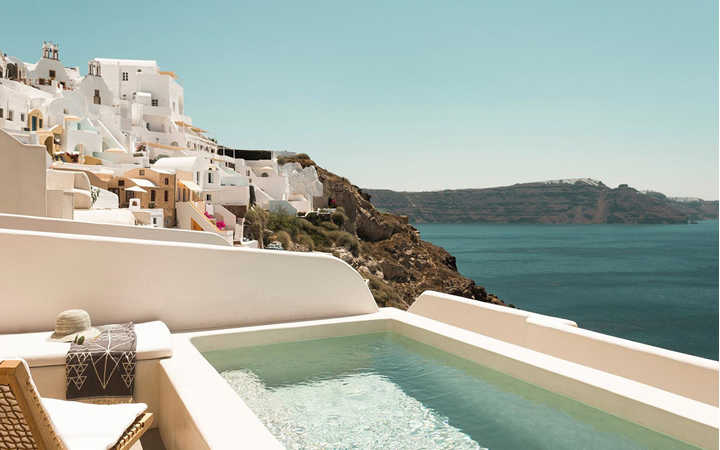 Caldera Residence
Share unique life experiences with your loved ones whilst having separate spaces available at all times for relaxation, isolation, or for your personal habits. Two luxurious bedrooms, a living area in calming, earthy tones, an outdoor space with a captivating view, and a plunge pool guarantee a perfect balance of social and private life, serenity and fun, shared experience, and individuality.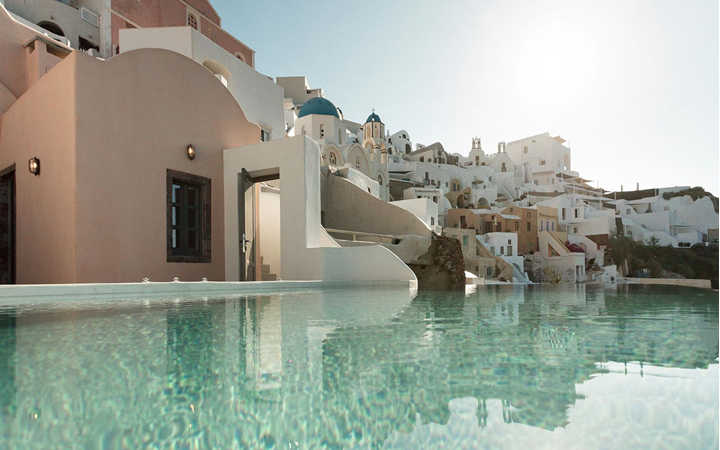 Armenaki Residence with Infinity Pool
A contemporary version of the semi-buried cave dwellings of the Caldera, The Armenaki Residence welcomes guests to the highest sense of elegant luxury comfort, and relaxation. Carved out of volcanic rocks and impressively spacious, your residence gives you the opportunity to share experiences and create memories with your loved ones. Meet for breakfast beside your infinity pool, enjoy the wellness of a hammam bath without leaving your room, and arrange sunset drinks with your friends or family on your stunning terrace.
Food and Drink
In-Room Breakfast
There's only one thing better than waking up over the royal blue Aegean having breakfast with this view! Every morning from 08:00 to 11:00 à la carte breakfast is served in your room, with continental options prepared with the freshest organic products of our land.
In-Suite Dining Service
Authentic local flavors, our chefs' creativity, and the finest service transform every Armenaki suite into the most exclusive restaurant with a fascinating view. Whether it is a casual meal in your swimsuit by the pool or a romantic dinner as the sun sets over the Caldera, our In-Suite Dining Service delivers Santorini's full dining experience to your very own suite. An all-day menu that combines haute- cuisine with local tradition, will reintroduce you to Santorini's most famous dishes and wines. Exclusively created for you by our chefs, with organic products by independent producers from every corner of the island and the Cyclades.
Special Offers
Book your stay directly from the official website of Armenaki Santorini and save:
Book in advance and save up to 21% off your stay
5%
Extra discount offered by Grecomap
Click on Grecomap's "Book now" button to save an extra 5% off on your stay at Armenaki Santorini. Applies to any additional offers.
15%
Extra discount by Hotel's Loyalty Club
This discount is not applied to room rates which you currently see on our website. In order to take full advantage of this additional discount, please join the hotel's Loyalty Club first. Then you should kindly make your booking.