Asterion Suites & Spa is an excellent launching pad to discover all the wonders that Crete has to offer, from historical sites, picturesque villages, and exotic sandy beaches, to diving excursions, wine tasting, shopping, and nightlife.  
The spectacular beachfront setting, understated luxury, and contemporary take on the Cretan vernacular comprise a unique getaway that is both authentically local and effortlessly cosmopolitan. Featuring every amenity that you'd expect from a five-star resort and more, the Premium-All-Inclusive Asterion Suites & Spa offers extraordinary holiday experiences for families, couples, and friends.
Rooms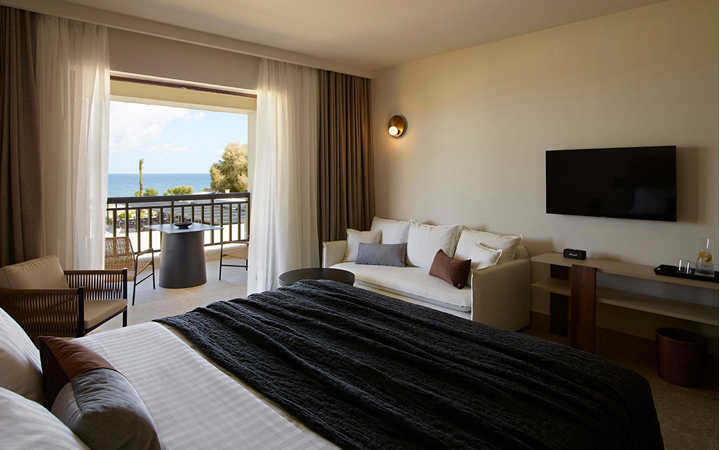 Cosmos Superior Room
Available with either a garden or sea view, the Cosmos Superior Double Room can host up to 3 guests on a double bed and a sofa bed. Natural materials, soft, earthy colors, and plush furnishings imbue the Superior Double Room with a soothing ambiance that calms both the body and mind.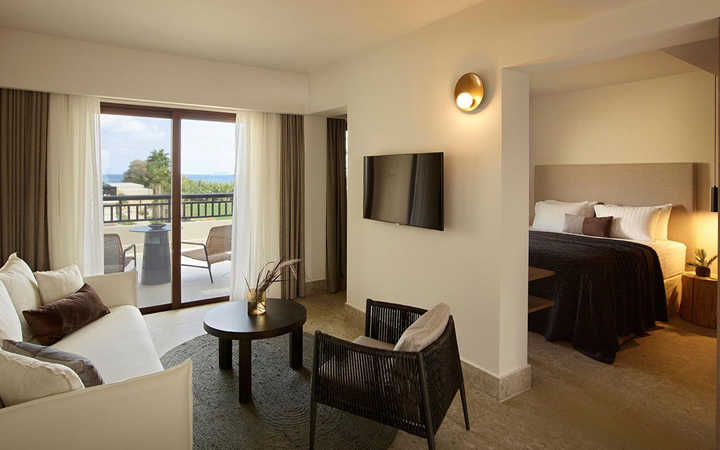 Planet Deluxe
Nestled in the heart of the gardens, the spacious Planet Deluxe can sleep up to four guests making it ideal for a family, with a double bed in the bedroom and two sofa beds in the living room. Chic, warm and cozy, it's a holiday haven for those seeking to connect with nature.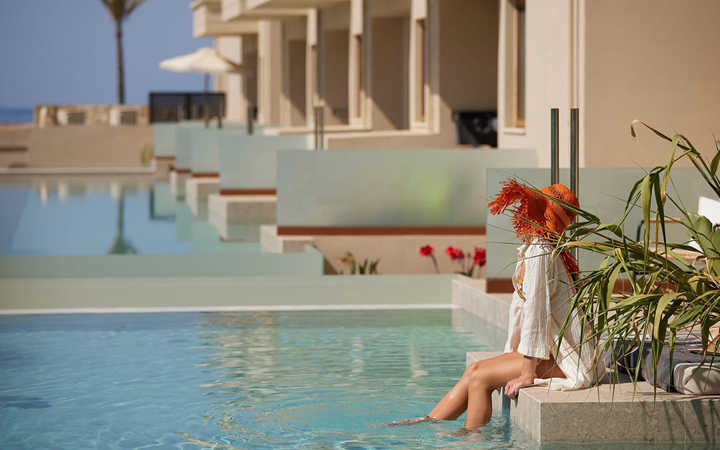 Ocean One-Bedroom Suite Swim-up
The Ocean Suite enjoys all the comforts of the One Bedroom Suite with the added luxury of a swim-up pool. No need to leave your room for a refreshing dip, just step outside and dive straight in right from your terrace where you can also soak up the sun from the comfort and privacy of your sunbed. Beautifully furnished with luxury finishes and natural materials, the Suite can host up to four guests with a double bed in the bedroom and two sofa beds, or 1 sofa bed and 1 single bed, in the separate living area.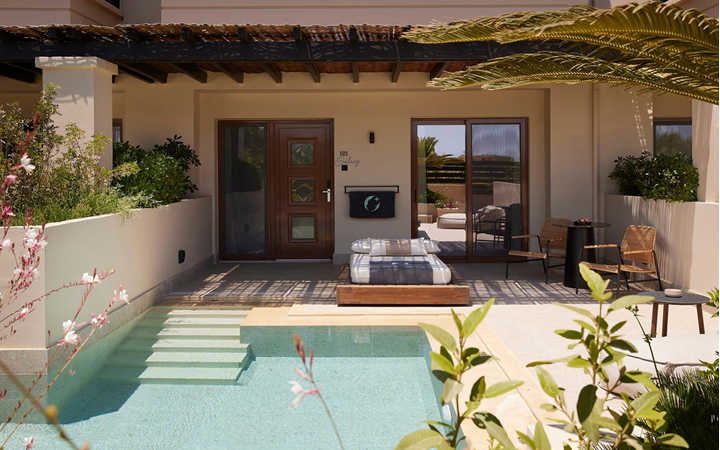 Galaxy One-Bedroom Suite with Private Pool
Offering the ultimate luxury experience, the spacious, meticulously designed Galaxy Suite consists of an elegant living area with two sofa beds, a separate bedroom with a double bed with an en-suite bathroom, and a private pool. Natural materials, soft, earthy colors, and plush furnishings, plus the ability to take a swim whenever you please make for a blissful stay.
Universe Panorama Suite with Roof Private Pool
Featuring stunning views of the Aegean Sea from your private pool on the rooftop, this Universe Panorama Suite offers the ultimate holiday experience. Beautifully furnished with luxury finishes and natural materials, the Suite consists of a majestic bedroom boasting a Queen-size bed, and a separate lounge area and terrace designed for luxury modern living.
Food and Drink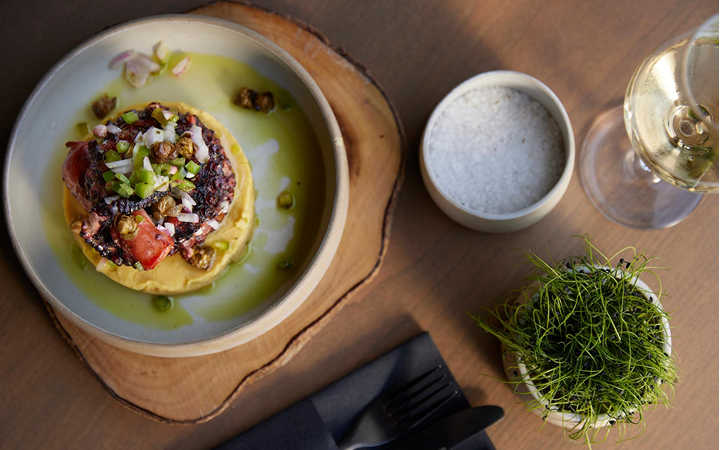 35° Cretan à la carte Restaurant
Modern twists and innovative takes on traditional Cretan recipes will tantalize your taste buds and make you want to come back for more. Each item is fully described on the menu providing you with an opportunity to try something new without the uncertainty of what to expect.
The restaurant opens its doors for dinner and offers various a la carte options. Due to its popularity, reservations are highly recommended.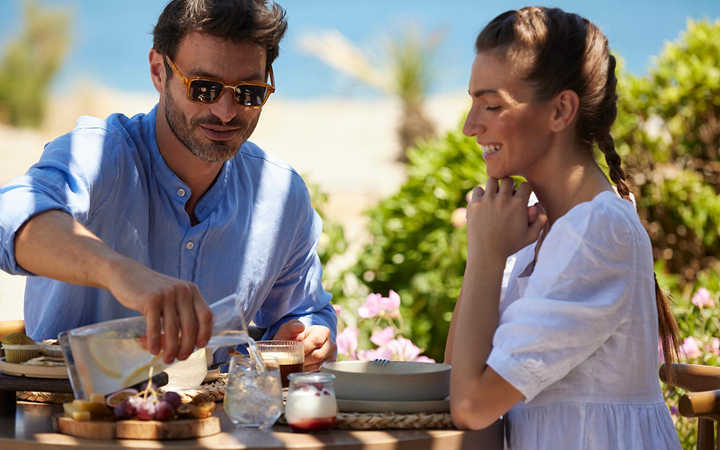 Matter Main Restaurant
The main restaurant serves breakfast, lunch, and dinner with a range of Cretan and international dishes using local produce. At breakfast, the Cretan station will delight you with its wide selection of local products. Try locally-made yogurt with Cretan honey in a variety of flavors accompanied by fresh herbs and seeds, Cretan cold cuts such as smoked pork Apaki, cured in extra virgin olive oil which is renowned for its health benefits, a variety of local cheeses such as the sharp-tasting 'Xinomizithra', grilled 'Talagani' or the spicy 'Mirotiri', served alongside a range of enticing rye breads.
Equally exceptional, a sumptuous variety of dishes for lunch and dinner cater to every taste, from low-calorie Mediterranean treats to a wide selection of international favorites.
Bars and Snacks
The lobby bar 'Stellar' will make you feel right at home. Serving a wide variety of drinks, you can also enjoy a quick bite to eat from a menu of freshly prepared finger foods and snacks.
Blessed with panoramic views of the Aegean Sea, the 'Naked Star' pool bar is the place to cool off during a blissful, hot Mediterranean day. Sit back and relax with your favorite cocktail or beer in hand and watch the world go by as you contemplate the sparkling blue horizon.
PEO Kissamou Chanion, Platanias 730 14
Special Offers
Book your stay directly from the official website of Asterion Suites & Spa and save:
5%
Extra discount offered by Grecomap
Click on Grecomap's "Book now" button to save an extra 5% off on your stay at Asterion Suites & Spa. Applies to any additional offers.
5%
Extra discount by Hotel's Loyalty Club
This discount is not applied to room rates which you currently see on our website. In order to take full advantage of this additional discount, please join the hotel's Loyalty Club first. Then you should kindly make your booking.