Beautifully sited overlooking what is one of the nicest, best-sheltered coves on the island, the Crystal Beach is a 4-star hotel in southeast Cyprus which, at 6 storeys, towers over its surroundings, affording magnificent panoramic views of the sea and the surrounding landscape for its guests. It's on the outskirts of Protaras, with its vibrant night life scene, yet far away enough to be an oasis of peace, if that's what you prefer.
It is a multiple Tripadvisor Traveller's Choice and Tripadvisor Certificate of Excellence award winner for several years running, and it attracts a lot of repeat visitors.
The hotel's Executive Suites and Superior Rooms have been renovated recently. Its grounds are extensive, and beautifully tended, with well-watered lawns and lots of little quiet nooks and crannies where you can find a bench, or a recliner, enjoy the shade, smell the sea, and feel its cooling breeze of an afternoon as you read a novel, talk quietly with a loved one, or just contemplate the goodness of life. The grounds are linked to a nature trail which takes you further afield along the coast.
Crystal Springs has two restaurants, two bars, a large adult pool, a smaller kid's pool next to it, a unique garden Jacuzzi, a spa, a full exercise room, and much more. Guests liked the immaculate grounds, the friendly, efficient staff, the organized entertainment, the kid's playground, and the flexibility of check in and out times.
Rooms
Rooms fall into 3 major categories, with several sub-categories according to the view they afford. These major categories are: Superior Rooms (up to 3 guests), Superior Family Rooms (up to 4 guests), and Executive Suite (up to 4 guests). Room size progresses from smaller to larger as you progress from Superior to Executive Suite.
Room decor is elegantly spare, with white walls and ceilings for the most part. Some walls are painted in earth tones, and some have simple sea-themed mural paintings. Floors are laminated wood tending toward lighter shades, and furniture is for the most part modernistic and anatomically comfortable, with sturdy, solid wood desks and end tables. Balconies have retaining walls topped with glass dividers for added safety and for improving the view. Bathrooms have rain shower cabinets, and sinks are stand-alone square basins.
Standard room amenities include 32" plasma TV with cable and satellite and movie channels, WiFi, AC, DVD player, bathrobes, slippers, and bath amenities,, bottle of sparkling wine, water and fruit basket on arrival, coffee and tea facilities, full length mirror, magnifying mirror, iron and ironing board, outside drying rack, pool towels, razor plug, safe deposit box, soundproof windows, and more.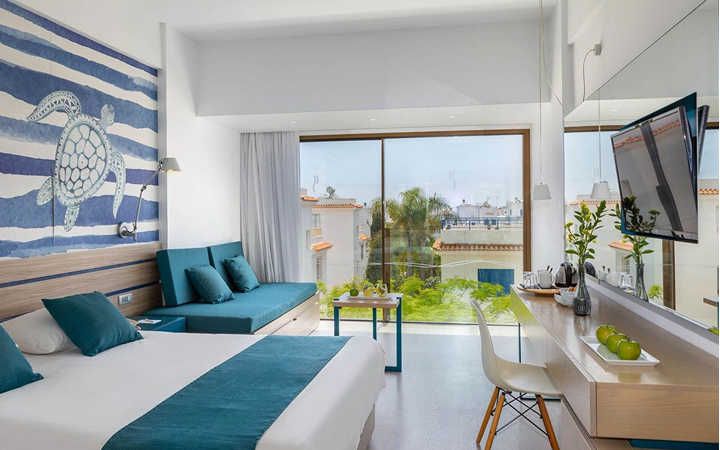 Superior Rooms
Superior Room Sea View gives you an unobstructed NNE view of the resort's grounds, Vrysoudi Cove, its beach, and a wide open panorama of the Mediterranean. It's an inspiring view. Bed types are 2 twin/king size.
Superior Room Side Sea View kind of gives you the best of both worlds: you get to look at the water, which is always pleasant, and then you get the coastline as well.
Superior Room Pool View is all about the grounds and their focal point, the main pool. There's always a lot going on in and around the pool.
Superior Room Inland View's focus is the countryside to the SSW of the resort; the hills of Cyprus, with mountains in the distance.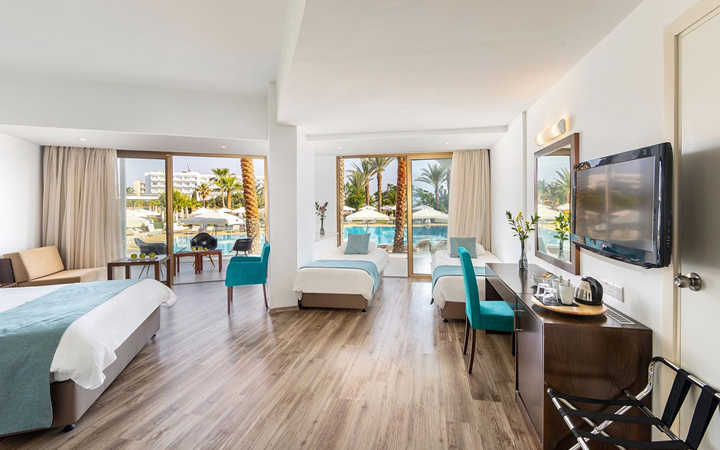 Superior Family Rooms
Superior Family Room Sea View
Superior Family Rooms are larger than the Superior Rooms with a different, more open configuration. The Sea View room is on a corner, giving you more room on the furnished balcony as well. The view of the sea over the grounds is magnificent, as this is an upper storey room. Bed choices are 2 twins/King size.
Superior Family Room Pool View
On the ground floor of the same corner of the building, the Pool View room is semi portioned into two sleeping areas. Room is larger than the Family Room Sea View. Laminate wood flooring leads out to a spacious terrace, and just a few steps away the pool awaits you.
Superior Family Room Inland View (no balcony)
Instead of a balcony, there is a glass wall, which still gives you a decent view of the resort's gardens and the buildings in the distance.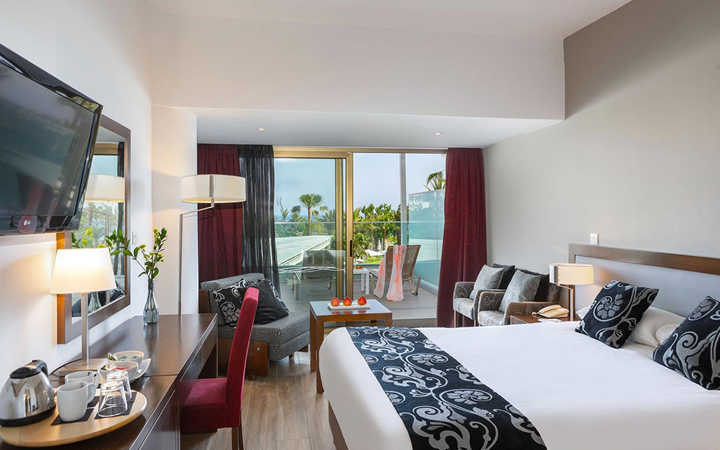 Executive Suite (Sea View)
The Executive Suite is the largest room on offer at Cyrstal Springs. The Executive Suite has an extra large furnished balcony, and an extra room with its own guest area, bathroom, sofa bed, and TV. This suite is large enough for a family of 4 to spread out comfortably. Bed choices are 2 twins/king size.
Food and Drink
The Salamina Restaurant is Crystal Springs' main dining venue. There you can find a rich buffet of international fare and local dishes
In addition, there are plenty of meatless options for vegetarian diets. Food theme nights are a frequent event, including Asian and Latin night, and food-based themes such as Fish Night, Barbeque Night, and Live Traditional Sushi making.
The Basilikos Restaurant is a shaded open air venue near the sea, where you can enjoy Greek and Cypriot meze dishes, with a variety of ingredients such as meat, fish, vegetables, and legumes in bite-sized portions, all of which can be enjoyed whilst taking in the beauty of the sparkling waters of the sea.
Tefkros Bar is the perfect place for a pre-dinner or after-dinner aperitif, where the bars friendly, helpful staff will mix up concoctions that are to die for, whilst giving you helpful pointers about where to go and what to do on your night out.
Yialos Pool Bar is a pleasant patio bar near the pool which serves drinks and food. Take a break from working on your tan or playing in the pool to enjoy a light meal at Yialos with a refreshing beer. Yialos serves a variety of light meals, including grilled meat, salads, snacks, coffee, tea, cocktails, and other concoctions.
Spa and Wellness
Crystal Springs Beach's Aural Spa, a member of the Aegeo Spas line,is a classy, one-stop facility for all you spa needs. It has private treatment rooms for couples and individuals close to the gardens and the sea. It's an oasis of calm and quiet, all glass and wood flooring and indirect lighting, which adds to its calming effect for spa goers. There is a highly trained team of Aegeo Spas consultants ready to advise and consult you on what regimen will maximize the spa's benefits. There are facials, body treatments, and massages, making liberal use of the world famous spa product line, Phytomer. Its techniques, its approach, and its natural ingredients are like a journey through time to ancient Greek treatments, right on up to the latest techniques and methodologies to make you feel brand new.
Treatments include Sense Crete, which uses Cretan herbs to cleanse and detoxify and stimulate circulation, Aloe Shine, which makes liberal use of Cretan aloe vera to moisturize and heal your skin, giving you a radiant, glowing skin tone, and Flow and Glow, which makes use of natural products to relax your facial muscles, draining away the tension lines and making you look years younger. There's the Cretan Massage, which invigorates and relaxes your back, neck, and scalp, the Energy Boost, a full body massage whose aim is to improve your circulation and add suppleness to your skin, and Your Path, in which you design your own massage routine as you listen to your body telling you what your specific needs are.
Crystal Springs' fully equipped Fitness Center includes a range of free weights and exercise machinery which enable you to carry on with your regular fitness routine whilst on holiday. In addition, there is a sauna and steam bath to relax those aching muscles after a vigorous workout.
Activities
The SSI Scuba Diving Center is on the premises and offers instruction in scuba and snorkelling by members of PADI (Professional Association of Diving Instructors). A full range of insured courses is available. You can also rent equipment and snorkel on your own. The waters in the area are exceptionally clear, with abundant formation and sea life.
Sports and Games include outdoor table tennis, beach volleyball, darts, and a bocce court. To explore further afield there is also bike rentals. You can take advantage of the Hotel's pool, and keep an eye on your little ones who can play nearby in the shallow splash pool close by. There is a unique garden Jacuzzi overlooking beautiful Vrysoudia Bay. Another favorite option is to simply do what everyone does in the summer: spend the day at the beach.
Fun for Kids
Fun For Kids can be had in abundance at Crystal Springs, whether at the outdoor playground, the Indoor Kid's Club, or activities such as the children's animation programme or mini disco party. In addition, there are tons of activities to keep those bored teens busy and active in constructive, organized ways.
In addition, the previously mentioned animation team also provides options for the entire family to enjoy in the daytime, as well as the evening. Nightly performances, including music performances, dance, magic and fire shows are on offer, as well as participatory events such as yoga, aerobics, and beach volleyball games.
In the Area
There are tons of interesting options to keep you engaged and interested in the immediate area of Crystal Springs.In the relatively immediate area, three fishing villages predominate, each with their unique little harbour. Protaras, Paralimni and Ayia Napa each retain their original character as fishing centers, and each has its own charm along its supremely walkable quayside. The air is fresh from the sea, the colourful caiques nod their sterns gently if the wind is up a bit, fishermen clean and mend their nets and, landward, there are all kinds of interesting things to see.
Protoras, 4km down the coastline from the hotel, offers all kinds of entertainment: night clubs, bars and restaurants, shops of all kinds and mini golf. You'll find similar, though slightly different, scenes at Paralimni and Ayia Napa.
Protoras has the Magic Dancing Waters Live Show, which is an intensely colourful light show featuring lasers and more fire and smoke than a Black Sabbath concert. There's plenty of seating in the cafes and restaurants where you can take in the sight and nosh and sip.
Protoras is also home to the Ocean Aquarium, unique to the entire island. It has over 1,000 species of marine life including stingrays, crocodiles, and even penguins, all doing their thing in the beautifully blue-lit waters behind ceiling to floor aquarium glass. There is also a tropical garden on the grounds.
Ayia Napa, about 12 km southwards, across the neck of the fat peninsula which forms southwest Cyprus, has the newly opened Musan, also unique to the island. It's a fascinating underwater sculpture park, so bring your swim suit. The play of light and through the water gives this sculpture park an entire different dimension as a viewing experience, as well as being a habitat for marine life. It's a bit like floating through the air in a museum.
Water World is the biggest water park on Cyprus. Themed rides use Greek history and mythology. There's lots to do for both kids and adults to have a great time.
The Parko Paliatso Luna Park also is the largest of its kind on the island- this permanent fairground has tons of rides and games and other attractions. The Slingshot is the highest ejection seat ride in Europe.
The Ayia Napa Sculpture Park is 20,000 square meters of fascinating shapes done by artists from all over the globe. Next door is the Cactus Park. The entire area is traversed on foot by a system of paths. The sculptures in this stark, semi arid locale look fascinating: man-mad objects in the middle of a semi-desert.
The Thalassa Ayia Napa Municipal Museum is an interactive museumhas exhibits dating back to ancient times and is all about the island's maritime history, the sea, and the creatures who live in it. It's quiet, it's air-conditioned, and it's educational.
In the wider area there are a number of tours to choose from, such as the Blue Lagoon Cruise, which gives a great view of the local coastline, along with a couple of one-hour swimming stops with free use of masks and snorkels. There is the Caves Jeep Safari, which takes guests to the interesting rock formations, forgotten churches, and an opportunity to swim at some of Cyprus's more deserted beaches. There's the Ghost Town Famagusta tour which explores the former haunt of the beautiful people during the 1960's, where movie stars, royalty and other celebrities mingled before the war of 1974.
95 Vrysoudion Str., Protaras 5295
Special Offers
Book your stay directly from the official website of Crystal Springs Beach Hotel and save:
Book in advance and save up to 34% off your stay
5%
Extra discount offered by Grecomap
Click on Grecomap's "Book now" button to save an extra 5% off on your stay at Crystal Springs Beach Hotel. Applies to any additional offers.