Louis Imperial Beach Hotel, is a repeat (2014-2022 inclusive) Tripadvisor Travelers' Choice Award-winning four-star resort, just south and within a 20-minute walk from the ancient harbour of Paphos, western Cyprus, and all its modern, historical and cultural historical riches. Highly rated for the quality of its food and service, situated in a magical corner of Cyprus considered to be the birthplace of Aphrodite, goddess of love, Louis Imperial Beach has all the makings for an unforgettable, romantic holiday getaway.
Renovated in 2019-2020, Louis Imperial Beach operates from May-October. It has five floors, 239 rooms, three restaurants, two bars, its own beach, an indoor and two outdoor pools, a kiddie pool, a spa, a fitness room, a hairdresser, and a whole variety of sports and activities, both aquatic and non-aquatic. Live music is on offer and a variety of live shows. There are all kinds of things for kids; a playground, babysitting on request at an extra charge, special kids' menus and buffets, a mini-club for 4-12 year olds, and a free cot if needed at no extra charge. Other facilities include a games room and a mini-market. As a testament to their positive experience, guests choose the Louis Imperial Beach for repeat visits. There is a no pets policy in force.
Guests rave about how beautifully sited the hotel is, the variety and quality of the food, the excellent, caring staff, the variety of activities available to kids, and the magnificent sunsets.
Rooms
All rooms come equipped with Wi-Fi, AC, safety box, tea and coffee facilities, balcony or terrace, hairdryer, mini-fridge, and heating in season. Room décor is an eye-pleasing off-white, with dun-colored furnishings, floor to ceiling drapes, and wide sliding balcony doors which allow the light to flood in.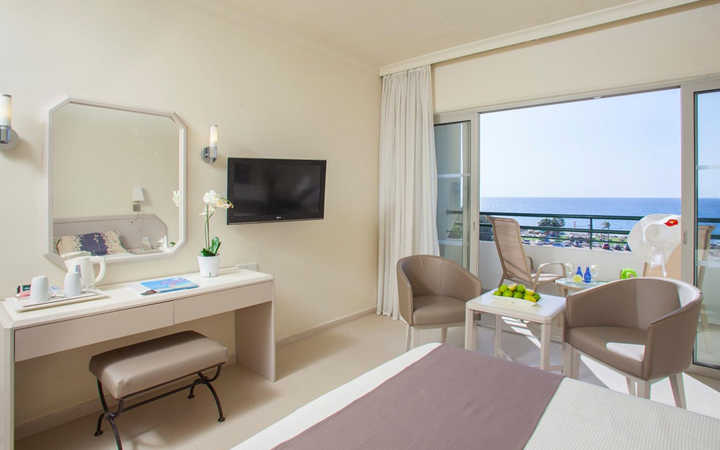 Twin/Double Rooms
There are two categories; Inland View and Sea View, giving you a total of four choices between these two styles of rooms. The only differences between them are the styles of the beds, and the views out of the window. Rooms have marble-floored bathrooms, bathtubs, and wall-mounted dryers.
The inland view rooms look over the landscaped grounds of the resort, with Paphos town in the distance, and, further afield, the hills and mountains of western Cyprus. The sea view rooms look over the resort's main pool, the pedestrian walkway on the coast, and the waters of the Mediterranean, sparkling in the westering sun. Sea View could also mean a side view of the beach, the breakwater, and the jetty.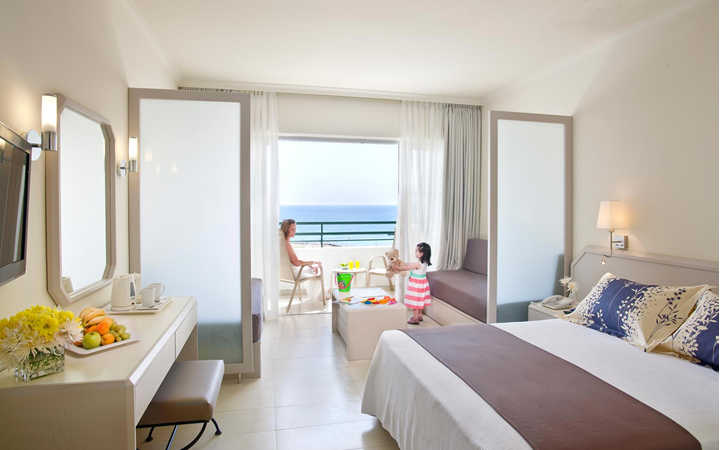 Family Rooms
Family Rooms come in two categories: Inland View, and Sea View. Both styles of rooms come with a bedroom with a double bed, and two sofa beds. The two areas are partially separated with a partition that does not entirely close. Floors are marble, and rooms come with a private balcony. Mini fridge is filled daily with water and soft drinks. Inland view overlooks the palms and pines of the resort and the surrounding area, with Paphos and the brown hills in the distance. Sea view stretches out to the ruler-straight horizon where the dark blue of the Med meets the lighter blue of the sky. Sea View could also mean a side view of the beach, the breakwater, and the jetty.
Food and Drink
Louis Imperial Beach Hotel has three restaurants and two bars. There is also an all-inclusive option which can change slightly according to the year and the season.
The layout of the remodeled Amorosa Restaurant is beautiful; under a curving high-ceilinged balcony supported by thick Knossos-like plain columns the buffet islands are arrayed with all kinds of things to eat, such as salads, fruit, breads and desserts. Off to one side of the main floor are the cooking stations where you can watch the chefs prepare your choice of main dish. The ceiling here soars much higher, the color scheme is white: off-white floors, white ceilings, walls and drapes. You can also dine al fresco.
The MURA Asian Restaurant serves sushi and other Asian fare, while the Pygmalion Burger Concept is a sort of sidebar restaurant specializing in burgers, salads and shakes and is a new feature of the resort's all-inclusive package.
The Rodonda Pool Bar serves all kinds of drinks and snacks at poolside in summer season only. You can relax in your sun lounger and sip your favorite concoction, beer, or non-alcoholic beverage as you drink in the sun's rays at Louis Imperial Beach's uniquely-shaped pool.
The sun pours in like butterscotch, as Joni Mitchell says, through the soaring atrium windows of the Louis Imperial Beach Hotel's lobby, where you'll find all kinds of goodies to order at the Fontana Lobby Bar. It's an ideal meeting point, or a place to relax with a drink and a book or newspaper, or to simply watch the people coming and going.
Spa and Wellness
Louis Imperial Beach's Planet Spa has three double massage rooms, one double room on the beach, a Turkish hammam, a beauty salon for manicures, pedicures and makeup, a sauna, a steam room and a Jacuzzi. Planet Spa describes itself as a "wellness oasis," and that's a pretty good self-description. You can liven up your skin and get it back to its tingly supple state with a detoxing scrub, scrubbing away the world's stress, and then follow up with one of several massages on offer. You can try the Aroma Massage Classic, the Oriental Massage which draws from thousands of years of Eastern tradition, the Anti-Stress Massage, or a variety of foot and hand massages. There are even kids' massages for the little ones.
There are chocolate treatments which give longer life to the tan you worked so hard on your vacation to get, and a variety of other treatments and services and even customized packages. Planet Spa has its own special herbal massage oils and beauty essences.
In addition, you can sweat out the impurities in your system in the steam room or the Turkish hammam, or revive those aching muscles in the Jacuzzi.
In the Area
Paphos is a UNESCO World Heritage site, one of about 900 such sites in the world. The criteria for such sites are those having "cultural, historical, scientific or other form of significance." Some of those having such significance in Paphos include Old Paphos, now called Kouklia, on a hill east of the modern city, the traditional birthplace of Aphrodite, goddess of love. Remains of the ancient city and its sanctuary can be viewed. The Paphos Archeological Park, which you can walk to via the Paphos pedestrian boulevard, includes the ruins of four large Roman-era villas with well-preserved mosaic floors.
The Paphos pedestrian boulevard on the seafront is famous for its beauty and makes for a pleasant walk in the cool of a summer evening. Paphos Segway Tours take you to all the famous sites in the city and environs, which has been likened to an open-air museum.
The Paphos Castle is a must see, as well as St. Paul's Pillar, where Church tradition holds that the Apostle Paul was flogged 39 times by the Roman Proconsul of Cyprus, Sergius Paulus, after which he himself converted to Christianity after Elymas the sorcerer was struck blind after trying to discourage Sergius Paulus from the faith.
Paphos is full of restaurants and night spots for those desiring a little nightlife. There are all kinds of tours, both on land and sea , available for sightseers wishing to have a broader view of the environs of this historical city.
The Paphos Aphrodite Water Park provides hours of fun in the sun on its slides, tunnels and pools. An introductory course in Scuba Diving can also he had in the Discover Scuba Diving tour, during which octopuses and sea turtles can be encountered in the crystal clear waters of the Aegean.
Poseidonos Ave, Paphos 8210
Special Offers
Book your stay directly from the official website of Louis Imperial Beach Hotel and save:
5%
Extra discount offered by Grecomap
Click on Grecomap's "Book now" button to save an extra 5% off on your stay at Louis Imperial Beach Hotel. Applies to any additional offers.
5%
Extra discount by Hotel's Loyalty Club
This discount is not applied to room rates which you currently see on our website. In order to take full advantage of this additional discount, please join the hotel's Loyalty Club first. Then you should kindly make your booking.