Just a 40-minute stroll along the pleasant, palm tree-lined Paphos pedestrian boulevard from the historical, cultural, entertainment and dining riches of Paphos in western Cyprus, the 4-star Louis Ledra Beach Paphos is ideally situated on a southwest-facing stretch of beach. Don't feel like walking that far? Louis Ledra Beach has everything you could possibly want to keep you busy, relaxed, or entertained, depending on your mood. Besides, Paphos is just a few minutes' bus ride if walking isn't your thing.
Louis Ledra Beach Paphos has won multiple tourism awards; multiple Tripadvisor Travelers' Choice Awards, including #19 on its list of Best All-Inclusive Resorts in Europe, 2021 and multiple other awards. Louis Ledra has it all: three restaurants, three bars, an indoor heated, outdoor, outdoor adults-only, and childrens' pool,  a fitness room, sauna, massage service, beauty salon, hairdresser, twelve different types of sports activities on offer, resort-sponsored boat excursions, a six days a week entertainment show, a childrens' disco and animation program, a playground, and video games. The resort uses ramps in public areas for wheelchair access. It's the perfect place for a tourism base, a romantic holiday, or an unforgettable family vacation.
Louis Ledra Beach has gotten high marks from guests for its location, cleanliness, and rave reviews for its cooperative and friendly staff. In addition, guests loved the excellent meal choices and quality of food, the comfortable beds, and the reasonable spa prices.
Rooms
Louis Ledra Beach has 269 rooms, 201 of which are double bed/twin bed rooms. In addition, there are 6 wedding rooms, 44 four-bed family rooms, and 18 family rooms with sliding door connectors. All rooms have parquet floors, their own balconies or terraces, WiFi, safety box, tea and coffee making facilities, mini fridge, and six day a week maid service. Color schemes are an eye-pleasing lighter-shade of earth tones and pastels with powder-mauve walls and white ceilings offset with powder-blue pillows and furniture upholsters.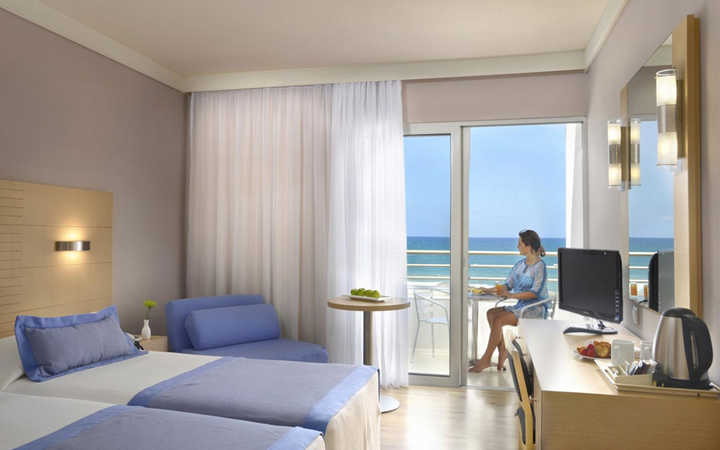 Double Rooms
These rooms come in three categories: Inland View, Side Sea View, Sea View. 201 of the 269 rooms at Louis Ledra Beach fall into the Double or Twin Room group.
Inland View faces northeast over the orchards and buildings of the area, and then your line of sight raises slowly to the white buildings of the Paphos suburban village of Geroskipou, a couple kilometers away. In the distance are the higher elevations of Cyprus, dun-colored in the high season, freshly green in the spring after the winter rains.
Inland View Side Sea View gives you the best of both, in a sense: depending on which wing of the building you're on, you'll either be looking north towards Paphos, with the sea on your left, or south towards the coast as it stretches away to the southeast. Because the hotel has two wings which run perpendicular to the sea, with a 45 meter gap between them containing the pool and the grounds, another version of the Inland Side Sea View overlooks the pool and the grounds, with the sea off to one side.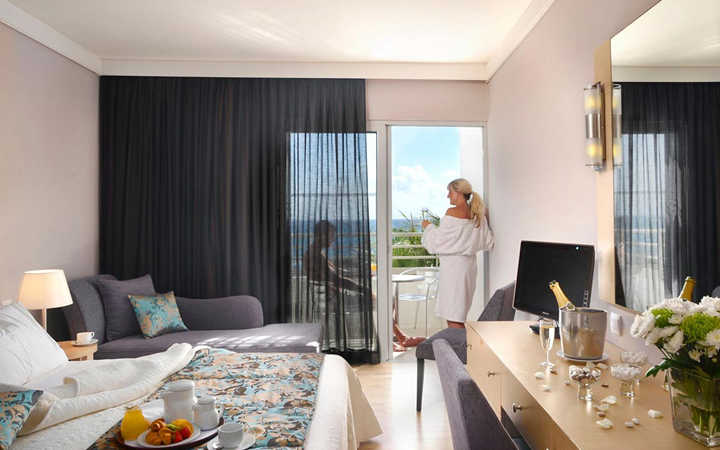 Honeymoon Room with Sea View
Louis Ledra Beach has 6 of these rooms with a sea view. They're especially appointed to make the beginning of your lives together as pleasant and romantic as possible. The views of the sea are magnificent, and the room is both cozy and roomy. Rooms come with a Jacuzzi. You can create your own little world in this room, and set off on your new lives with a bang, not a fizzle.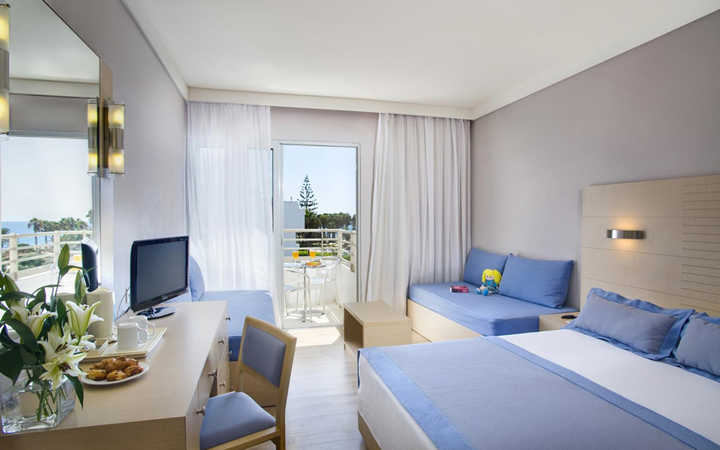 Family Room with Inland or Sea View
There are 44 of these rooms available. They're perfect for small families. They're equipped with a double bed, with a living room area comprised of two sofas facing each other with a coffee table in the middle space. Sofas convert to beds. The only difference is that they either look inland, or out over the sea.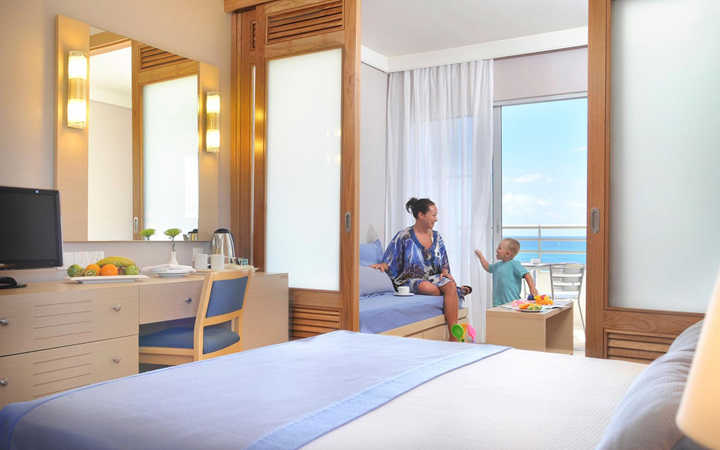 Family Room with Sliding Doors
There are 18 of these rooms. 11 of them offer and inland view, whilst 7 of them offer a sea view. Larger than the others, these rooms are just the thing for families of up to two children.
Two categories: Inland View, Sea View
Food and Drink
The main restaurant at Louis Ledra Beach is the Anemi (Winds). Restaurant layout has opaque geometric skylights, an Art Deco style tile scheme, and cafeteria-style table placement. There is a generous buffet with a wide variety of offerings. You can watch the chefs ply their trade in real time. Theme nights are on offer, subject to change, and include such cuisine as Greek, Asian, Mexican, and Middle Eastern.
The Sundowner pool restaurant and bar serves a buffet late breakfast, lunch and snacks by the side of the main pool, or indoor, if you wish.
The Al Mano Italian restaurant serves dinner only, and is waiter-serviced.
The Gazebo Lounge Bar is Louis Ledra Beach's indoor lobby bar. In addition to its use as a meeting point, you can indulge in a wide selection of alcoholic and non-alcoholic beverages, including coffee and tea. It has a nice outdoor terrace.
The Waves Beach Bar overlooks the beach, and is open only during the summer months.
Spa and Wellness
Louis Ledra Beach offers a free sauna for guests. The small fitness room is also available free of charge. There is also, for a fee,  a massage service, beauty salon, and a hairdresser, which are all under private management.
Activities
The beach at Louis Ledra is a mix of sand and rocks. The beach is embraced at either end by jetties to keep the wave action down. Sunbeds, beach towels, and umbrellas are available free of charge.
The main swimming pool is rectangular in shape, with a depth of 1.4 meters. Sunbeds, umbrellas and towels are all free of charge. There is also a kidney-shaped indoor pool, and a round, 6 meter in diameter childrens' pool with a depth of 40 cm.
The following sports activities are available at Louis Ledra Beach without charge: table tennis, tennis, beach volley, aerobics, archery, French bowls, and darts.  Billiards and video games are also available with an extra charge. Off-site, and with a charge, you can find mini golf, horseback riding, golf, and boat excursions.
Entertainment options include 6 times weekly indoor and outdoor live shows,  including live music, cabaret, and similar entertainment.
Fun for Kids
Kids can take advantage ofa playground, between meals snacks, special menus, kids' buffet at meal times, and a 6 days a week Mini Club featuring paining, sports, reading and games.
In the Area
Paphos is a UNESCO World Heritage site, one of about 900 such sites in the world. The criteria for such sites are those having "cultural, historical, scientific or other form of significance." Some of those having such significance in Paphos include Old Paphos, now called Kouklia, on a hill east of the modern city, the traditional birthplace of Aphrodite, goddess of love. Remains of the ancient city and its sanctuary can be viewed. The Paphos Archeological Park includes the ruins of four large Roman-era villas with well-preserved mosaic floors.
The Paphos pedestrian boulevard on the seafront is famous for its beauty and makes for a pleasant walk in the cool of a summer evening. Paphos Segway Tours take you to all the famous sites in the city and environs, which has been likened to an open-air museum.
The Paphos Castle is a must see, as well as St. Paul's Pillar, where Church tradition holds that the Apostle Paul was flogged 39 times by the Roman Proconsul of Cyprus, Sergius Paulus, after which he himself converted to Christianity after Elymas the sorcerer was struck blind after trying to discourage Sergius Paulus from the faith.
Paphos is full of restaurants and night spots for those desiring a little nightlife. There are all kinds of tours, both on land and sea , available for sightseers wishing to have a broader view of the environs of this historical city.
The Paphos Aphrodite Water Park provides hours of fun in the sun on its slides, tunnels and pools. An introductory course in Scuba Diving can also he had in the Discover Scuba Diving tour, during which octopuses and sea turtles can be encountered in the crystal clear waters of the Aegean.
Poseidonos Ave, Paphos 8210
Special Offers
Book your stay directly from the official website of Louis Ledra Beach and save:
5%
Extra discount offered by Grecomap
Click on Grecomap's "Book now" button to save an extra 5% off on your stay at Louis Ledra Beach. Applies to any additional offers.
5%
Extra discount by Hotel's Loyalty Club
This discount is not applied to room rates which you currently see on our website. In order to take full advantage of this additional discount, please join the hotel's Loyalty Club first. Then you should kindly make your booking.