Mitsis Family Village is a rich ultra-all-inclusive 4* hotel in Kos with superb views. It is built on the foot of Mountain Dikeos, only 5 minutes' walk away from a Blue Flag-awarded beach. Family Village has a crystal-clear pebble beach which can be reached either by jumping on the hotel's cool beach hopper or by walking about 5' and staying fit as well, 6 Bars and 3 take away restaurants which include a pastry corner with premium ice-cream and most of which operate during the day.
The hotel offers 219 spacious standard and superior rooms with sharing pools, a Mediterranean-style décor, and an impressive view of the Aegean Sea. Among the available facilities are seawater swimming pools and water slides, a tennis court, beach volley, beach soccer and numerous sports and other recreational activities.
Rooms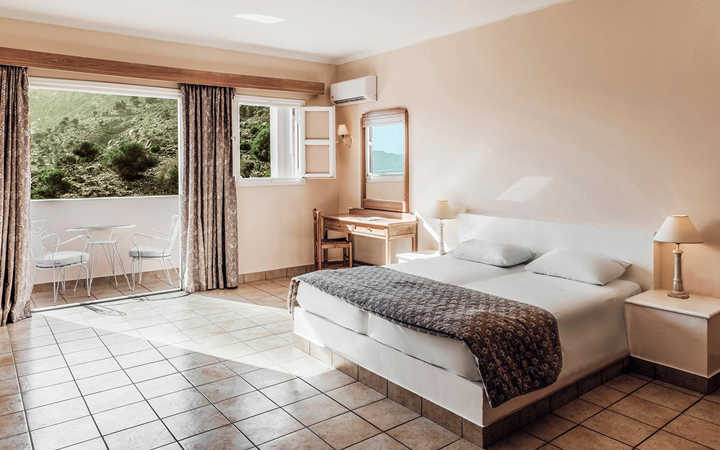 Twin Rooms
Twin rooms offer magnificent views over the peaceful hotel's surroundings or the Aegean Sea. Ample spaces decorated in earthly tones and feature wooden furniture. A well-appointed interior comes with a bedroom, a bathroom with a bathtub, and a variety of modern amenities to make you feel at home. The furnished balcony is the ideal point to relax while enjoying the fresh atmosphere and breathtaking views.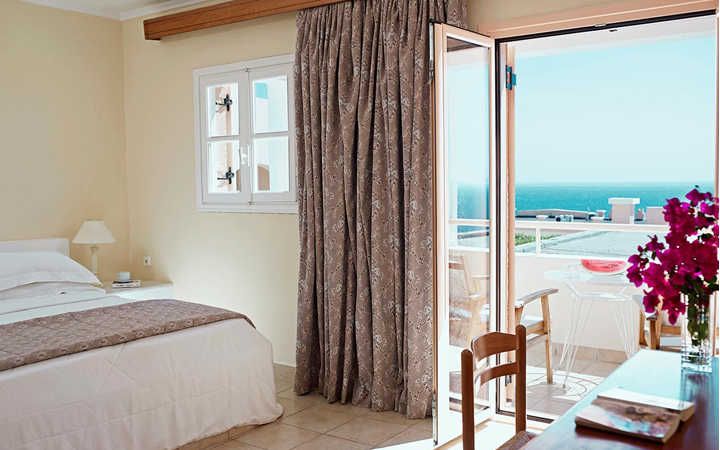 Family Suite
The family suites offer two separate sleeping areas with a closing door. Family Suites feature one master bedroom with a twin bed for the parents and one with single beds for the children. Convenient and cozy rooms, allowing privacy and making them ideal for families with grown-up children or teenagers.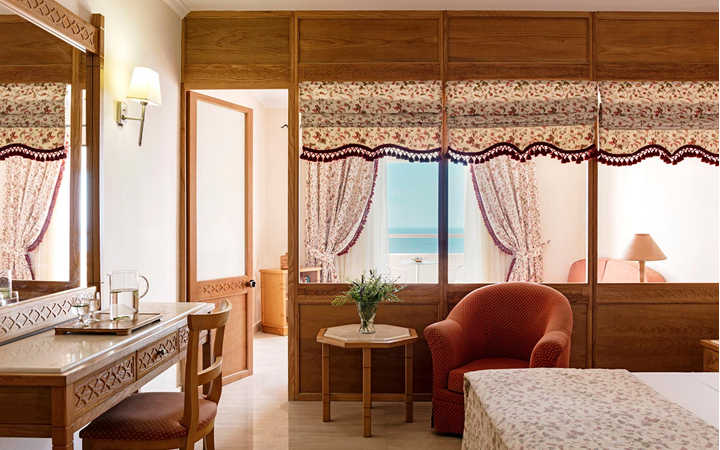 Superior Family Rooms
These family rooms stand out for their stunning sea views. Long rooms with wooden-glass separation with curtains and a closing door. A smart and flexible interior arrangement along with the high-quality amenities offered, guarantees a delightful family holiday experience. The furnished balcony is offered to relax and enjoy the views.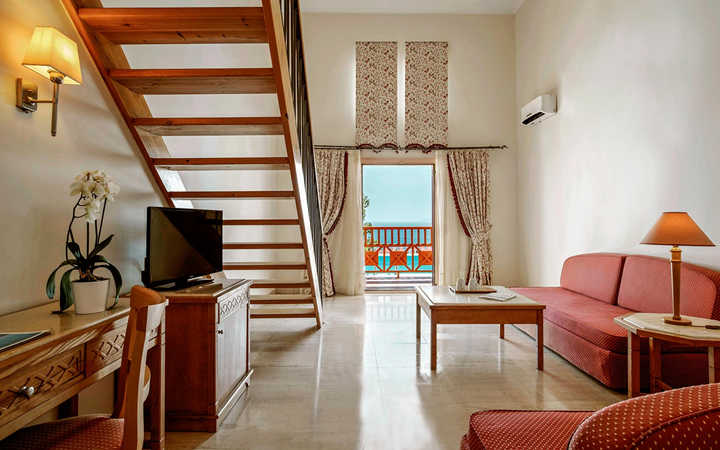 Superior Maisonette Sharing Pool
Two-storey rooms decorated with pleasant colours, offering a warm and relaxing environment. All rooms come with a master bedroom on the first floor, a second bedroom with two sofa beds on the ground floor and two bathrooms. Just a few steps from your window door, enjoy the refreshing water of the swimming pool for exquisite moments of tranquility.
Food and Drink
In the Main Restaurant, Panorama guests can enjoy a variety of dishes from all corners of the world accompanied by exceptional service and amazing views of the Kardamena coast and the calm crystal-clear sea. A big assortment of salads, cold cuts, freshly cooked dishes, fruits, and sweets, a lot of which are prepared live in front of the hotel's guests, create a unique culinary experience that can please even the most demanding appetite. All meals are served buffet style with extended show cooking.
Zia Snack Bar - Next to the Beach Bar, the snack bar serves succulent snacks such as traditional tasty homemade gyros in pita bread, delicious burgers, and juicy wraps, equally matching the varied buffet offerings of the Main restaurant.
Pizza on the beach - Right at the heart of the beach, stone-baked delicious pizzas are freshly prepared and offered crispy, cheesy, and hot to all guests.
Ideally located close to the reception and next to the Main bar, the Creperie-Gelateria offers delicious specialties prepared with fresh, mouth-watering ingredients. The delicate pastries, the rich & creamy ice cream, and the fine crepes will become the most exquisite experience. Here, everything is focused on simplicity, with a wide variety of sweet and savoury crepes all crafted with care.
Bars
With a fantastic view, comfortable seats and friendly, unpretentious, and attentive bar staff, the Main Bar is the right place to refresh and relax. Overlooking the main swimming pool, this place serves all kinds of beverages and a wide variety of cocktails prepared with love, served with a smile and accompanied by a high-quality live performance almost every night.
Nautilus Pool Bar - For those who will choose to add some adventure to their holiday and use the water slides of the Mitsis complex, Nautilus pool bar serves assorted slush puppies, soft drinks, beer, wine and a big variety of long drinks.
Theatre Bar - Experience one of the unique live recreation shows at the complex's theatre while enjoying a fine drink. Beer, wine, long drinks, alcoholic and non-alcoholic drinks are served with a warm smile from experienced bartenders to entice your senses!
For those who will choose the beach for the day, the Beach Bar of Summer Palace caters to all their needs, serving assorted slush puppies, beer, wine, alcoholic and non-alcoholic drinks, tea and coffee just like an oasis in the heat.
Afternoon tea-time - A wide variety of coffee and different flavours of tea are served daily in the evening, at the Main bar area, accompanied by a set choice of fresh sweet delicacies by the head chef. An intermediate meal between lunch and dinner in a unique fresh and relaxing environment.
Spa and Wellness
Family Village Beach Hotel invites you to step into a world of beauty and relaxation within the hotel premises of its sister hotel, Blue Domes Resort & Spa, located a few minutes away. "Sapphire Spa", operating on a daily basis at an additional charge for every guest, offers magnificent surroundings, where relaxing music, enchanting design and décor, indoor pools and unique treatment rooms create a truly unique retreat! The wellness professionals and skilled practitioners will suggest the appropriate beauty treatments and excellent products to tailor your specific needs, enhance your beauty, rejuvenate, and stimulate you during your stay.
Special Offers
Book your stay directly from the official website of Mitsis Family Village and save:
Book in advance and save up to 22% off your stay
5%
Extra discount offered by Grecomap
Click on Grecomap's "Book now" button to save an extra 5% off on your stay at Mitsis Family Village. Applies to any additional offers.