Looking above Psarou Beach one discovers among the most beautiful Boutique hotels in Mykonos, Greece. Nissaki boutique hotel is an amazing site. Overlooking the Psarou Beach and only a few steps away from the renowned Platis Gialos Beach, this magnificent 5-star hotel, is bound to steal your heart.
Imagine spending your vacation in the most picturesque 5-star beach hotel in Mykonos, surrounded by the golden sun, the Cyclades nature, the crystal blue waters, and the beautiful Platis Gialos Beach. Nissaki Beach Hotel in Mykonos brings your fantasies to life. The breathtaking panoramic view of the deep blue sea, the cosmopolitan Platis Gialos Beach, and the mesmerizing Cyclades vibe make Nissaki Beach hotel the ideal Mykonos getaway for your private holidays.
Rooms
There are 24 elegant rooms and suites, each with its own unique character, modern furnishings, comfortable king-size beds with soft linen, bathrooms with jacuzzi and steam cabins, lovely sitting areas and picturesque views of the sea. All windows are soundproofed to ensure the calmness and peace for the guests.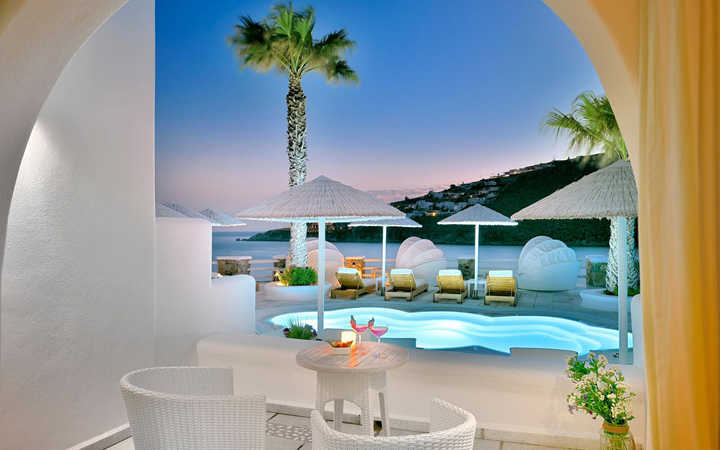 Island Lover Suite for Two
A magical and comfortable setting for two, ideal for experiencing unique hospitality in absolute privacy and tranquility.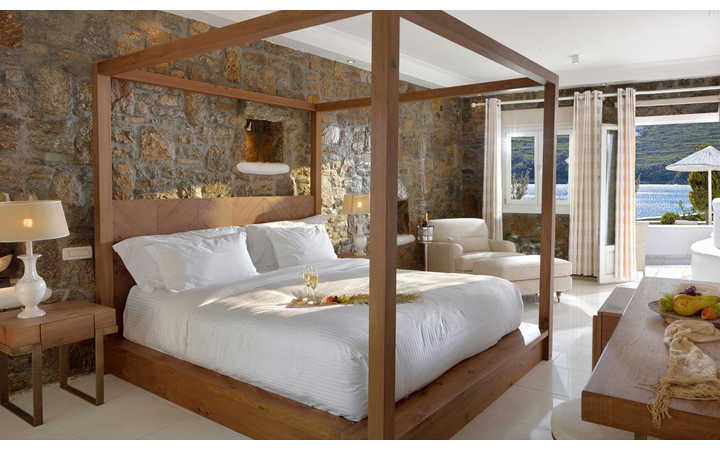 Dreamy Honeymoon Suite
This heavenly hideaway for two, offers endless relaxation moments in the indoor Jacuzzi which is in a separate Jacuzzi room boasting amazing views of the endless blue sea creating a dreamy backdrop for your romantic Mykonian vacations.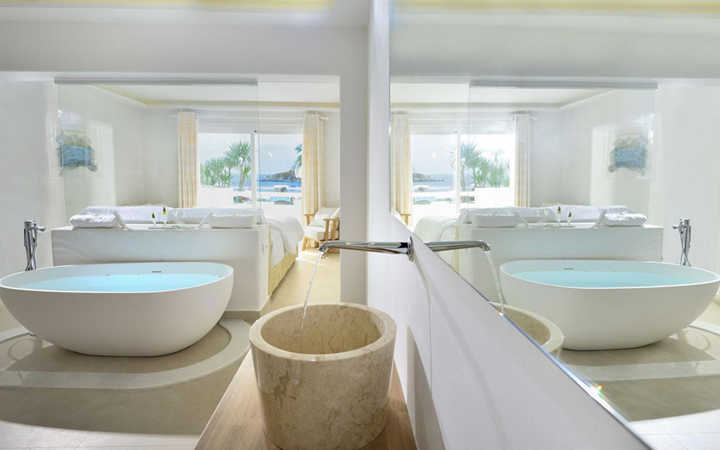 Elegant Suite
A modern designed bathtub, uniquely positioned in the room, adds a sensual character to this luxurious suite, offering true moments of pure relaxation.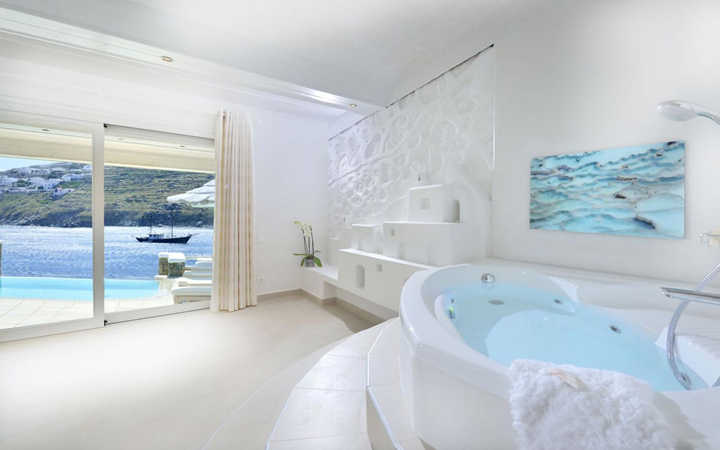 Myconian Grand Suite
This magnificent suite features two spacious bedrooms with two king-size beds, a comfortable living room with unique wall decorations, and two bathrooms. The separate indoor Jacuzzi area offers a truly relaxing experience in the comfort and privacy of your suite.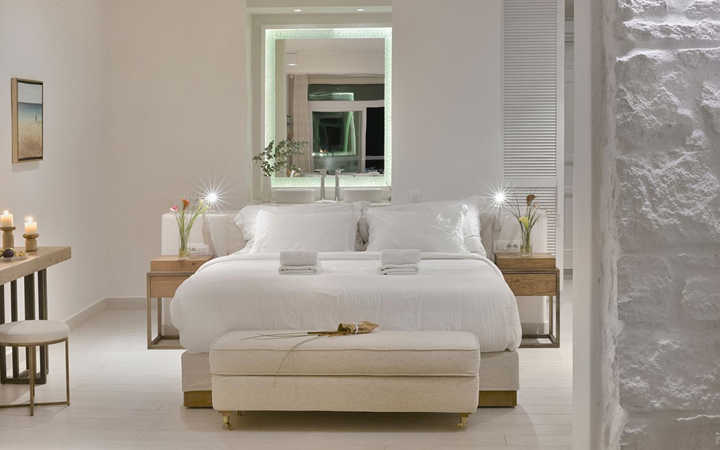 Mediterranean Villa Suite Two Bedrooms
This newly built suite features two comfortable bedrooms, a king-size bed and two single beds, two bathrooms, a shower, spacious terrace and an elegant sitting area to enjoy a sparkling glass of champagne with fresh fruits. The indoor Jacuzzi gives an extra touch of luxury and makes it impossible not to relax.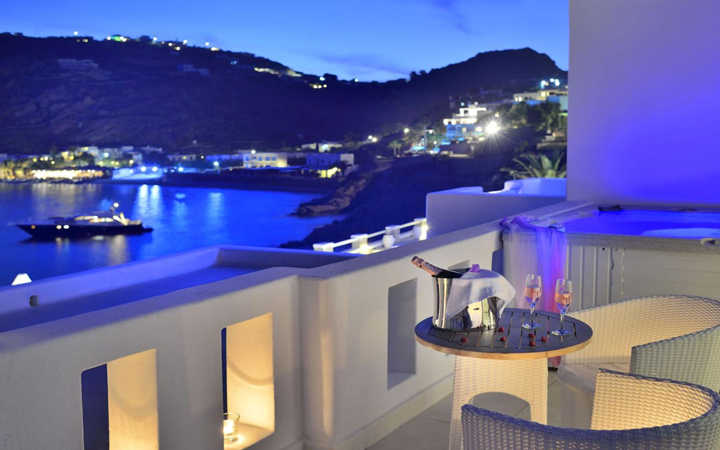 Nissaki VIP Suite
Ideally positioned on the first floor of the hotel with spectacular views to the famous cosmopolitan Psarou beach, this modern suite features a separate extremely spacious indoor Jacuzzi area and a large terrace providing the exclusive VIP guests endless blissful moments of unsurpassed luxury.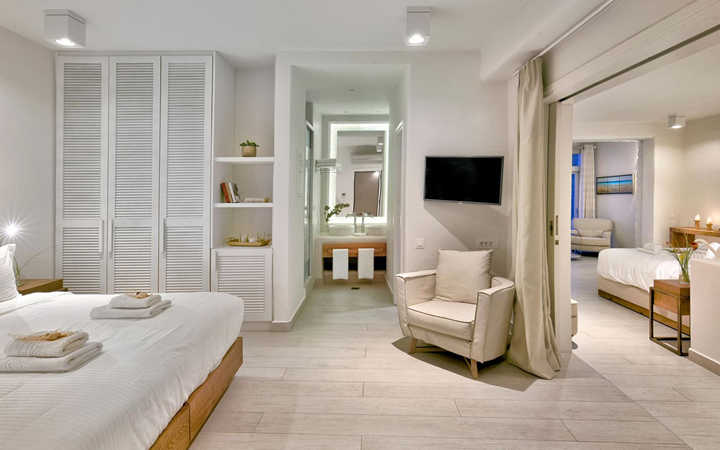 Coast Life Villa Suite Three Bedrooms
Spacious newly built villa with three bedrooms, two king-size beds, two single beds, two bathrooms, shower, a separate indoor Jacuzzi area, an elegant sitting area, and spacious terrace with breathtaking views of the Mediterranean Sea. A perfect holiday setting for big companies of friends or families.
The superb location of this admirable 5-star hotel with a sea view, the cosmopolitan Platis Gialos Beach, and the luxurious accommodations make Nissaki the ideal choice for those seeking a stylish 5-star beach luxury hotel with a sea view. Surrounded by the glorious atmosphere of Mykonos, Nissaki is considered a jewel amongst luxury hotels with a sea view in the Cyclades.
Platy Gialos, Mykonos 846 00
Special Offers
Book your stay directly from the official website of Nissaki Boutique Hotel and save:
Book in advance and save up to 23% off your stay
5%
Extra discount offered by Grecomap
Click on Grecomap's "Book now" button to save an extra 5% off on your stay at Nissaki Boutique Hotel. Applies to any additional offers.