Celebrating the liberating living outdoors, the brand-new NOMAD is a bohemian paradise of 14 suites, a private place designed for discerning travelers with a nomad heart, lying just 200 meters from Kalo Livadi, one of the most beautiful beaches of the Aegean Sea.
Rooms
There are 14 uniquely designed suites. Light-filled open-plan spaces with natural interiors of wood and stone offer the perfect balance, simplicity and peacefulness. Each suite feature a large bedroom with king-size bed, bathroom with shower and luxurious amenities. Private outdoor lounge areas have spacious dining and sitting places, double daybeds and walk-in showers.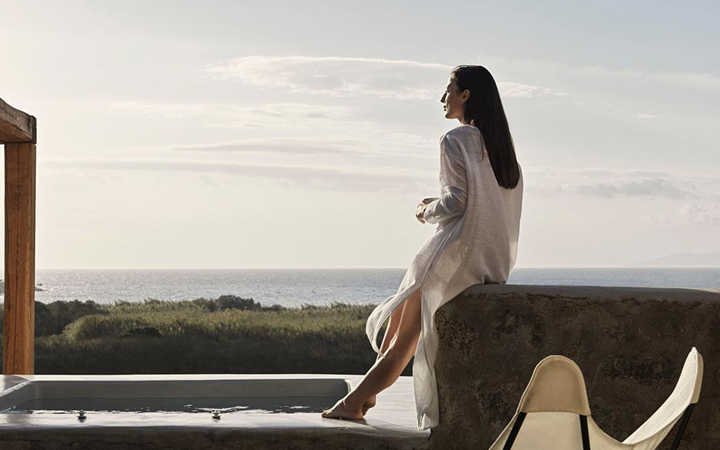 Honeymoon Suite Sea View with Outdoor Jacuzzi
This charming suite feature a private terrace with outdoor jacuzzi, and scenic panoramic views made for romance.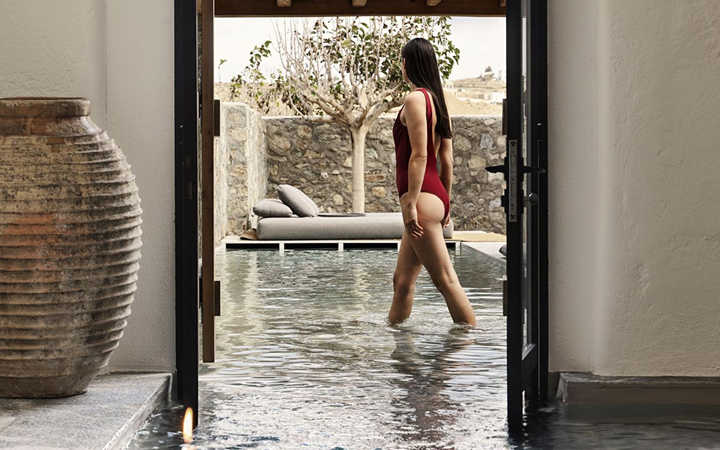 Nomad Suite with Private Pool & Yard
A private heaven nested in the heart of the building, with large indoor and outdoor spaces that merge together and become one. Bedroom with king-size beds and step-in bathtub, right in front of the indoor-to-outdoor private pool create a unique environment for relaxation.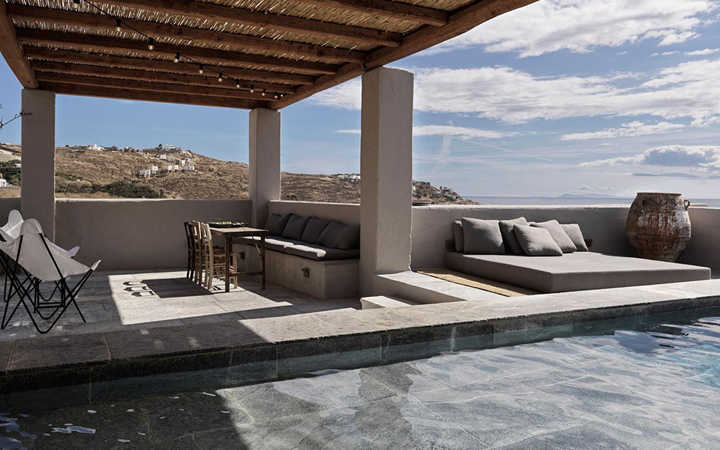 Nomad Suite Sea View with Private Pool & Yard
Carefully designed open-plan suite for two, with a private pool, a glorious step-in bathtub and beautiful lounge areas with unapparelled sunrise and sea views.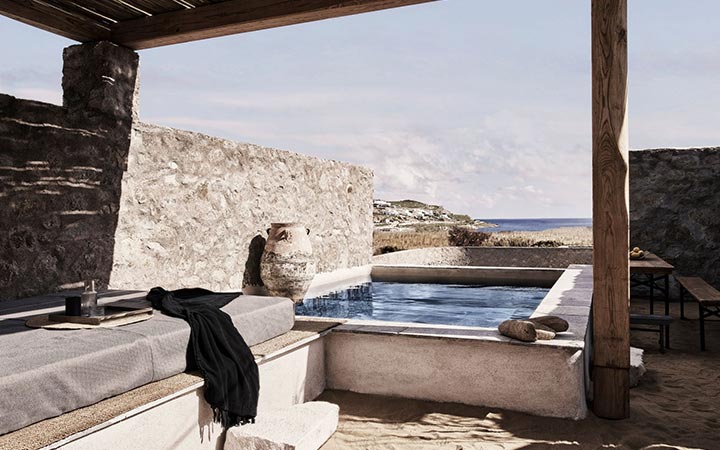 Nomad Two Bedrooms Suite Sea View with Private Pool
This two-bedroom suite is ideal for sharing with friends or family as it encompasses large indoor areas along with a common spacious terrace with private pool and double sunbeds as well as a lounge and dining area, perfect for cherishing and sharing life's beautiful moments together.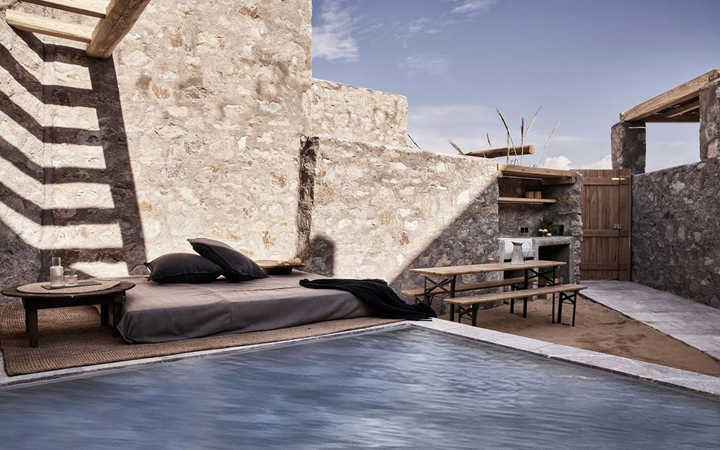 Cave Suite with Private Pool
This sleek designed cave-style suite is exquisitely decorated with the finest marble and is a wondrous and romantic landscape perfectly designed for two. Immerse yourselves in this opulent suite that comes with a large outdoor terrace and the eccentric - half indoor and half outdoor - pool, with the waters of the pool flowing from the inside out.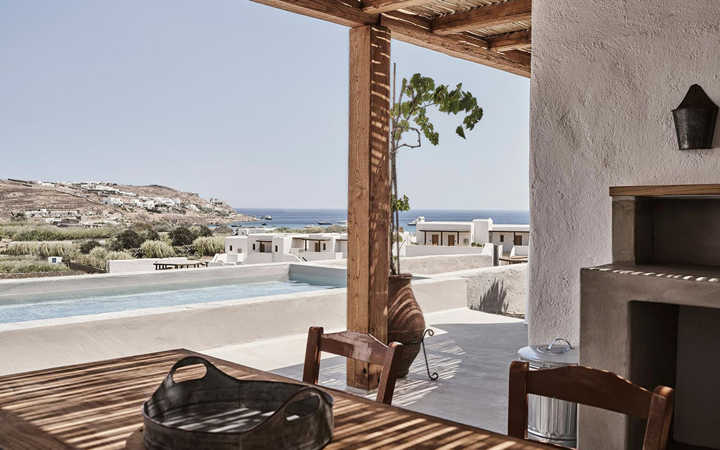 Kukulu Suite Sea View with Private Pool & Jacuzzi
A bright bohemian paradise with wooden details and white floors. This charming suite features a large terrace with private pool and jacuzzi, surrounded by the island's natural beauty, with endless vistas of sun and sea.
Nature is there, embracing like a healer, enhancing the overall calming effect of relaxation. Deriving from the water element surrounding your suite, the smooth merging of indoors and outdoors spaces, the feeling of earth and sand between your toes while walking barefoot in your private courtyard.
Kalo Livadi, Mykonos 846 00
Special Offers
Book your stay directly from the official website of Nomad Mykonos and save:
Book in advance and save up to 32% off your stay
5%
Extra discount offered by Grecomap
Click on Grecomap's "Book now" button to save an extra 5% off on your stay at Nomad Mykonos. Applies to any additional offers.
10%
Extra discount by Hotel's Loyalty Club
This discount is not applied to room rates which you currently see on our website. In order to take full advantage of this additional discount, please join the hotel's Loyalty Club first. Then you should kindly make your booking.