Blessed with its own beach on the most cosmopolitan island of Greece the WILD offers privacy and seclusion, the new "luxuries" we seek while traveling in these times. A perfect vacation spot where one can feel relaxed and safe. Situated on a cliffside, the hotel overlooks the deep blue of the Aegean and a small cove once home to "the Wild Ones", the most fearless fishermen of Mykonos. Now, a tranquil, picturesque port that brings to light what Mykonos used to look like. Simple, raw, beautiful, and wild.
With a beautiful, unpretentious, and crystal-clear private beach serviced with healthy delicacies and stylish sunbeds, the wild hotel provides a true Cycladic experience for its guests. The swimming pool overlooking the Aegean Sea is ideal for those who wish to relax and decompress, or even socialize over cocktails, freshly pressed juices, or excellently brewed coffee.
Rooms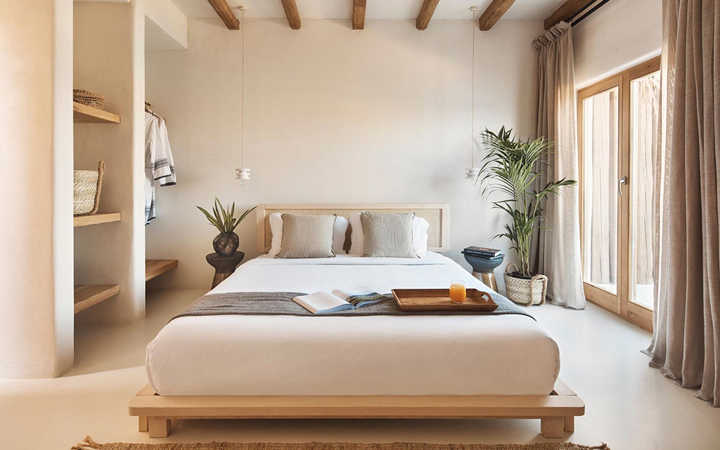 All 40 rooms, suites, and villas, amphitheatrically set, face the sea offering awe-inspiring views. Each accommodation – bigger or smaller, with 1 or 2 bedrooms, some with their own dining room and plunge pool – has its own distinguished style in synthesis with natural materials in an earthy palette. High-end design furniture is matched with handmade lamps, artisanal objects with antiques, cotton and linen fabrics with soft leather, and fine tiles with handcrafted floors. Every detail makes a difference – from the woven baskets and the compact speakers to the large couches and the chaise longues.
Food and Drink
Tastes at the Wild is all about delicious food, local produce, and fresh ingredients cooked slowly with traditional techniques. At the Wild food is tied up with a unique experience, elevating your senses and pleasing your palate, whether enjoying homemade bread and power smoothies during breakfast, steamed mussels accompanied by freshly cut French fries for lunch, a poke bowl with salmon and a delicious pizza at the beach or the Fisherman's Oyster paired with a fine wine at the RAW. Plus, handmade cocktails are just perfect for any time of the day.
Spa and Wellness
In the WILD open-air gym, we match high-end fitness equipment with an awe-view of the big blue of the Aegean. The open-air shower comes as a plus adding to the overall experience.
The Spa is small and private, designed for the rejuvenation and relaxation of body, mind, and soul. Enjoy a hydro massage in the open-air spa pool, with the shape of a curved cave or just indulge in massages and therapies custom-made to your needs.
Agia Anna, Mykonos 846 00
Special Offers
Book your stay directly from the official website of The Wild Hotel by Interni and save:
Book in advance and save up to 20% off your stay
5%
Extra discount offered by Grecomap
Click on Grecomap's "Book now" button to save an extra 5% off on your stay at The Wild Hotel by Interni. Applies to any additional offers.
10%
Extra discount by Hotel's Loyalty Club
This discount is not applied to room rates which you currently see on our website. In order to take full advantage of this additional discount, please join the hotel's Loyalty Club first. Then you should kindly make your booking.