The widely known 100 Rizes Seaside Resort, a proud member of the Small Luxury Hotels of the World, consists of 4 luxury-designed buildings, extended in a typical area of Mani's wild landscape. Providing a unique beachfront location for guests, surrounded by 100 Olive Groves, which overlook the hotel from their century-old history, 100 Rizes Seaside Resort combines the perfect blend of the natural environment, the traditional architecture of the very well-known Tower-houses of Mani with the luxury sense and modern construction.
100 Rizes Seaside Resort is located 18 Km from Gytheion and 266 Km from the city of Athens. It features an outdoor and an indoor pool, SPA, Sauna, and Gym facilities.
Rooms
Adapted to the specific characteristics of the architecture of Mani, while insuring interior spaces with modern aesthetics, 100 Rizes Luxury Seaside Resort gives the visitor the impression of a traditional village, with stone buildings, upscale luxury facilities, and all modern comforts.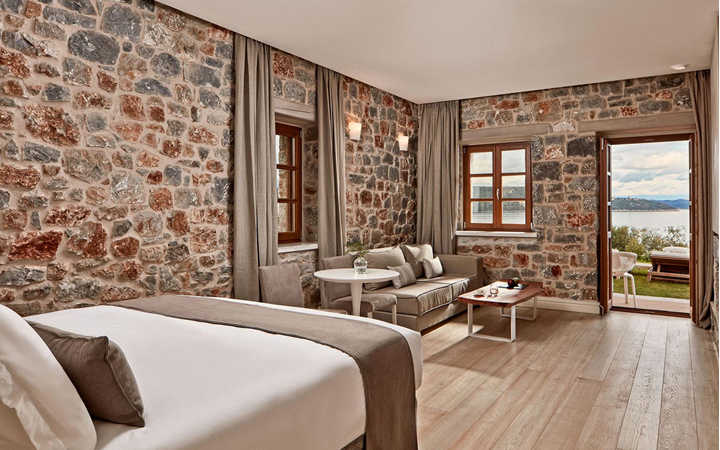 The elegantly designed interiors, with modern marble bathrooms breathtaking sea views, and private gardens, offer an eco-chic natural hideaway.
Food and Drink
"Lupino" an a la carte restaurant & Bar, serves a blend of traditional and contemporary Mediterranean dishes. Enjoy a snack menu and cocktails relaxing by the pool or the beach area. All Rooms & Suites offer a great sea view!
Gytheio, Peloponnese 232 00
Special Offers
Book your stay directly from the official website of 100 Rizes Seaside Resort and save:
Book in advance and save up to 15% off your stay
10%
Extra discount offered by Grecomap
Click on Grecomap's "Book now" button to save an extra 10% off on your stay at 100 Rizes Seaside Resort. Applies to any additional offers.
5%
Extra discount by Hotel's Loyalty Club
This discount is not applied to room rates which you currently see on our website. In order to take full advantage of this additional discount, please join the hotel's Loyalty Club first. Then you should kindly make your booking.