Kouros Hotel is regarded as one of the premier establishments for summer vacations in the Cyclades region, Greece, due to its elegance and impeccable service. Freshly renovated in 2022 by French designer Fabienne Spahn, Kouros offers its guests an ideal place for comfort, relaxation, and elegance -all combined together in the idyllic setting of Mykonos Island. Only 500m from Mykonos Town and right in front of the Aegean Sea, it provides the most amazing unobstructed sunset sea view on the island.
Brand new Sanctuary Suites section in the hotel is inaugurating in July 2022. A complex of 9 suites and villas with exclusive in-room services, an ideal place for comfort, relaxation, and elegance all combined together in the idyllic setting of Mykonos Island.
The hotel features a fine dining restaurant, Narcissus, among the top 5 in Mykonos, a unique Spa, and a fully equipped gym.
Rooms
All the beautifully appointed rooms at the Kouros Hotel & Suites have a private balcony or terrace with an unobstructed Sea View. The luxurious atmosphere and the unparalleled service offered in the spacious Suites, combined with the authentic, simple and pure line decorations makes these panoramic sea view rooms the ideal getaway in Mykonos. Embracing the notion of luxurious minimalism and Cycladic charm, all accommodations are serene hideaways outfitted with world-class comforts and conveniences. The stylish property has 49 modern rooms and suites offering full, unobstructed Aegean Sea views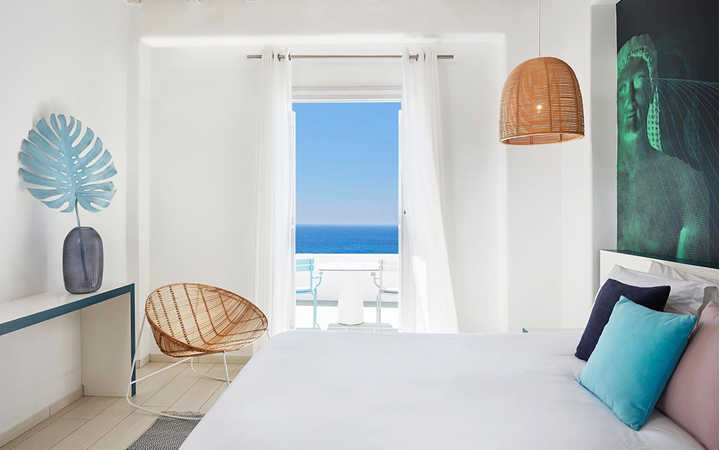 Premium Sea View Room
The freshly renovated Premium Sea view rooms are beautifully appointed with generously proportioned verandas overlooking the Aegean Sea. Start your day by enjoying a fresh coffee using your coffee machine and make sure you treat yourself with a Greek candy that will welcome you to the room upon arrival.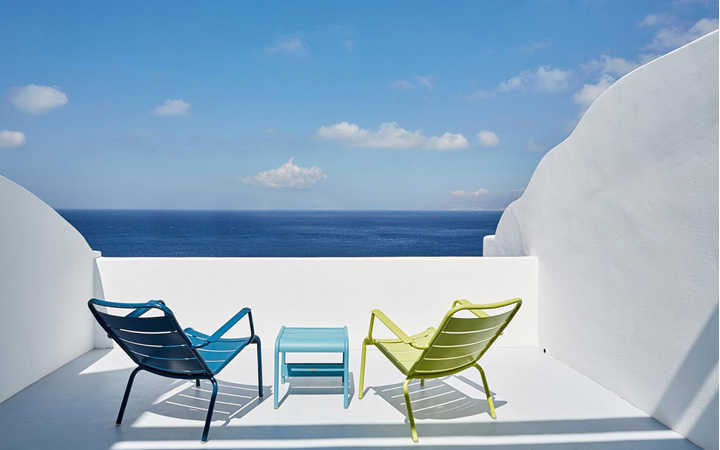 Deluxe Sea View Suite
Infused with a modern cosmopolitan style and complemented with a comprehensive array of thoughtfully well-appointed amenities, the suites are located on a higher floor offering a breathtaking sea view while the spacious lounge area creates relaxing heaven.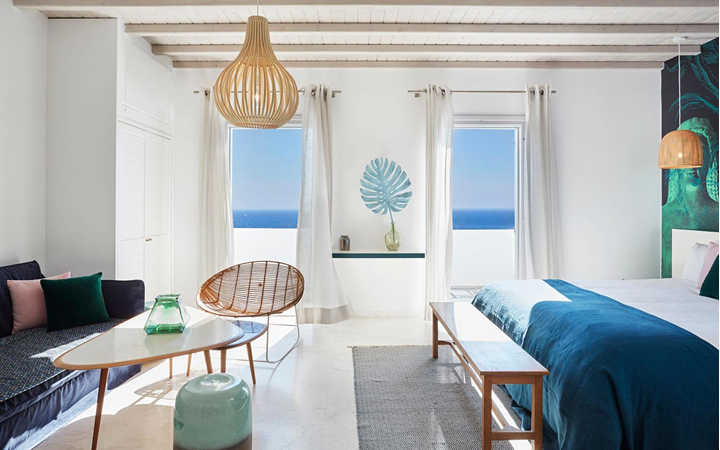 Superior Sea View Suite
Ideally situated on the higher floors the Superior suites offer endless panoramic sea views. Let yourself be seduced by the spacious interior with designer touches and a promising lounge area. Relax at the modern bathrooms using a variety of Korres amenities. Use your own Nespresso coffee machine for your moments of sunset watching from the private balcony.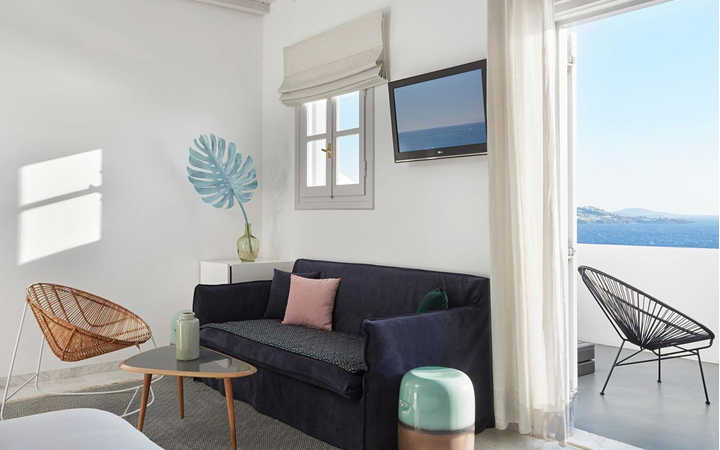 Deluxe Sea View with Outdoor Jacuzzi
The Suite's island view is juxtaposed magnificently against the understated quality, calm and tranquility found within its designer details. Your private outdoor Jacuzzi whirlpool built at the edge of your balcony gives you an infinity view and endless hours of relaxation. Experience the most beautiful sunset on the island from your veranda in the company of your partner or friends as this suite can accommodate up to two guests in a flexible layout. This most sought-after accommodation perfectly exhibits the ease of combining rest with entertainment, the modern with the traditional.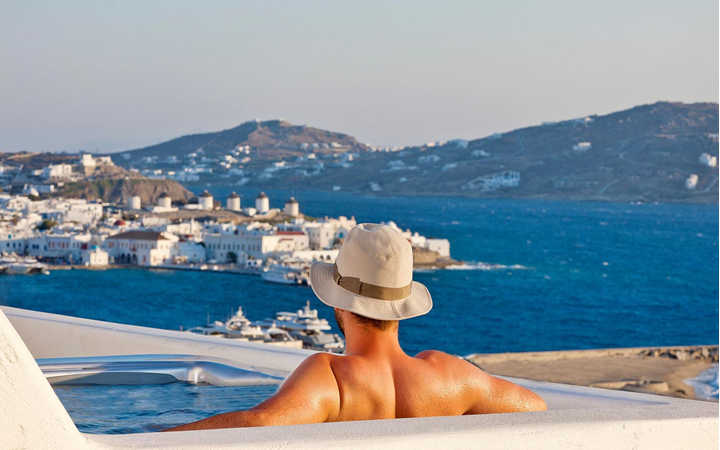 Superior Sea view with Outdoors Jacuzzi
The freshly renovated 2-room Superior Suites with an outdoor Jacuzzi are located on handpicked spots within the premises of Kouros Hotel and Suites. Let yourself be seduced by the extraordinary views of the Aegean from inside your living room or your private outdoor Jacuzzi whirlpool. With outstanding interior design and a homely feel, these spacious two rooms at Superior Suites are certain to offer even the most demanding travelers the best Honeymoon experience.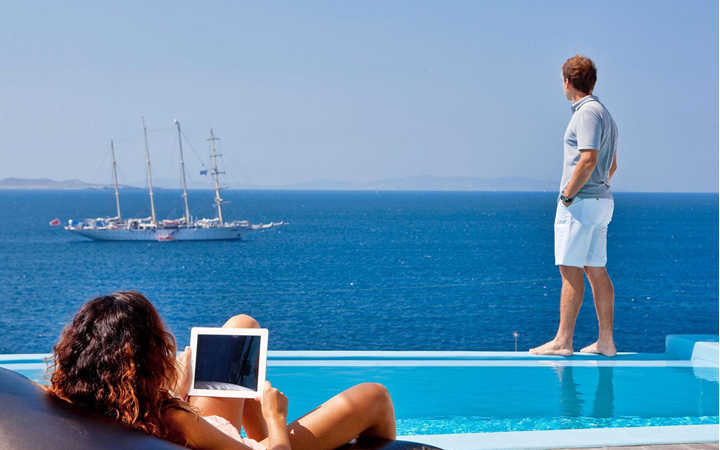 Signature Sea View Suite with Private Pool
This Signature room is the ultimate Suite with selected designer furniture in an elegant and spacious environment. The suite's private infinity pool merges seamlessly into the Aegean Sea. It promises exclusivity and unforgettable services. A charming lounge area and your private veranda promise ultimate relaxation in endless blue surroundings.
Food and Drink
Chef Argyris Aglamisis is introducing a signature menu for Kouros Hotel & Suites by combining traditional Greek tastes with the modern dining scene.
The finest ingredients are hand-picked by local markets to meet the needs of the refined menu. This exclusive restaurant seats 22. A Mykonos dining experience for the most demanding palettes.
Wellness and Spa
The new full-service Zoe Spa has been entirely re-designed in 2016 to offer Kouros hotel guests a state-of-the-art spa environment, in order to enjoy an amazing spa experience during their stay on Mykonos island.
The new Zoe Spa features a complete hydrotherapy area including a built-in jacuzzi, an original experience shower, and a comfortable hammam, to unwind, get rid of toxins, and prepare for blissful spa treatments.
Tagoo Area, Mykonos 846 00
Special Offers
Book your stay directly from the official website of Kouros Hotel & Suites and save:
Book in advance and save up to 11% off your stay
5%
Extra discount by Hotel's Loyalty Club
This discount is not applied to room rates which you currently see on our website. In order to take full advantage of this additional discount, please join the hotel's Loyalty Club first. Then you should kindly make your booking.