Located in the Acharavi area on the northern section of the island of Corfu and built in a privileged area, this luxury boutique hotel offers unique accommodation, accompanied by thoughtful amenities and warm hospitality.
Crafted with modern, forward-thinking travelers in mind, these luxurious accommodations are expertly designed with sophisticated amenities and boast impressive interiors. A beautifully landscaped garden surrounds the hotel premises creating a feeling of a small paradise, whilst the less than 700 meters away sandy beach promises a memorable Ionian stay.
Rooms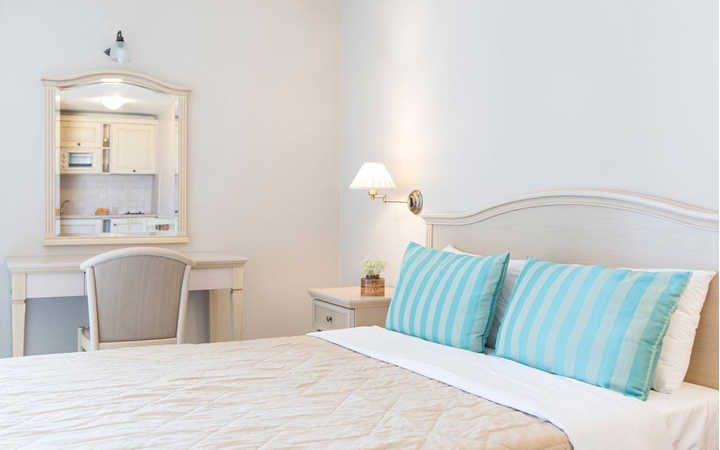 Executive Double Room
Understated and intimate, these 30-35 sq. meter Executive Double Room features a sumptuous design, combining bright colors with natural elements. This Room is situated on the ground floor or 1st  floor and they feature 1 double bed or 2 single beds, sofa bed, bathtub or shower.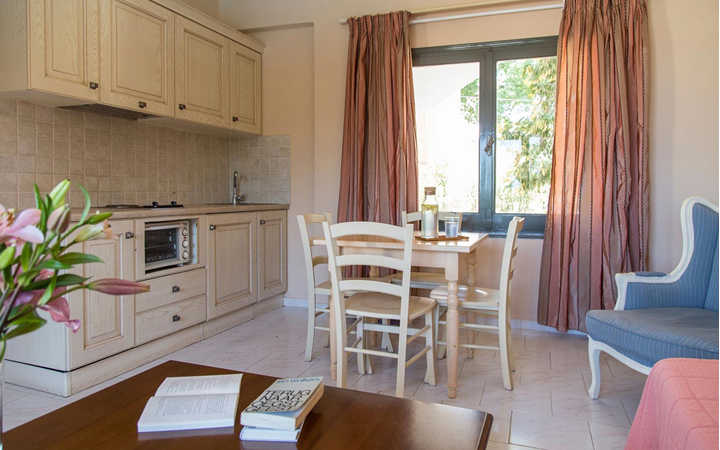 Family Room
Family Rooms offer a living room area and are the perfect home away from home for families and long-staying guests. Rest and recharge in spaces that present traditional bright patterns in contemporary scale and composition, also providing guests with thoughtful comforts and amenities.
They are situated on the ground floor and feature a separate bedroom with one double bed and two single beds in the living room, kitchenette, and terrace.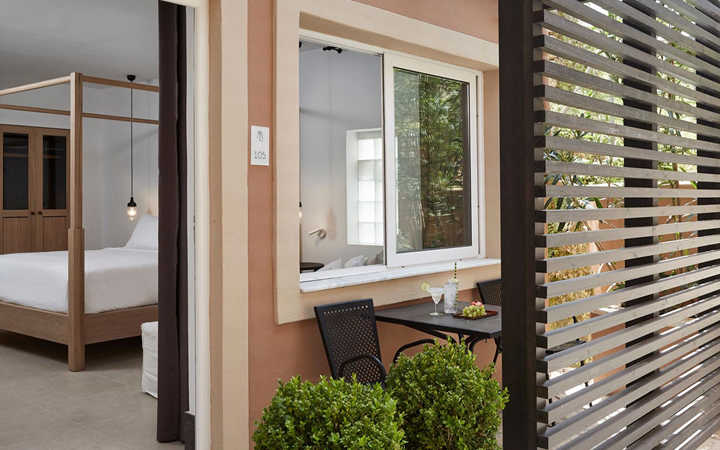 Junior Suite
Indulge in minimal style tinged with Ionian influence, beautiful views, plus modern conveniences providing a relaxing home away from home.
The Junior Suites are situated on the ground, 1st, and 2nd floors and feature a garden or sea view, one double bed, Nespresso, mini bar, bathrobes & slippers, LCD TV 43', shower, terrace, renovated (upgraded interior design, atmosphere lighting, hidden lighting behind the bed, blackout curtains, new colors, new furniture)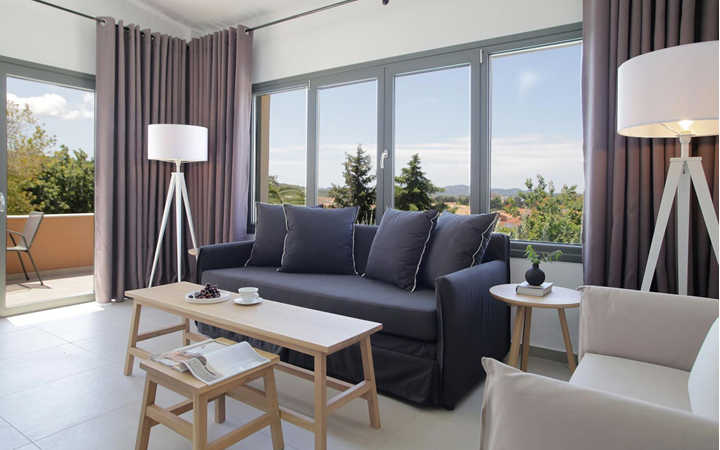 Senior Suite
Experience a serene island retreat away from the bustle of the city in these luxurious Senior Suites with Sea View, combining contemporary style with cultural touches.
With a contemporary design and unique architecture, these luxury Suites are decorated with stylish furniture and traditional Ionian paintings, fabrics, accessories, and decor to ensure a comfortable, sumptuous stay.
They are equipped with a complete kitchen fitted with all cutting-edge appliances, satellite television and sound system, bathrooms, a unique view of the sea, and overall comforts worthy of an exceptional resort that guarantees a comfortable, luxurious stay in Corfu.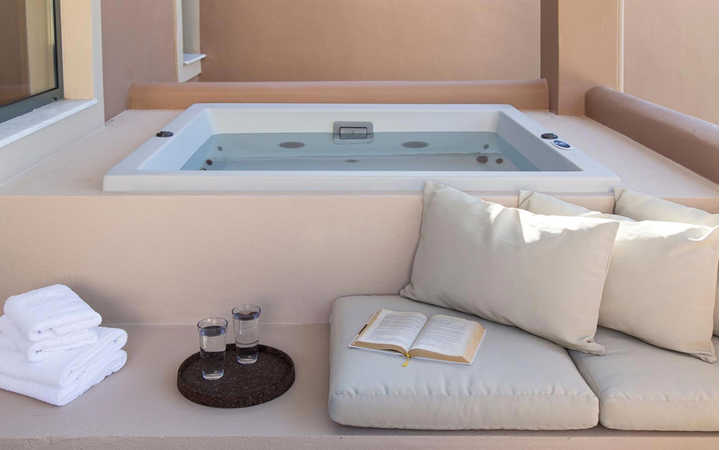 Master Suite with Private Jacuzzi
Comprehensively designed to offer a sense of modern luxury with classic finishes, the luxurious Master Suites with Private Jacuzzi present open spaces and private terraces making up this small, intimate paradise.
Food and Drink
The sumptuous cuisine of Corfu truly embodies "the art of local and fine dining". The island is well known for its mouthwatering delicacies and complex recipes. Noted for innovative style and full of fresh and timeless flavors with modern flair, the local tastes are the cornerstones of the Corfu culinary experience.
Special Offers
Book your stay directly from the official website of Lena Mare Boutique Hotel and save:
Book in advance and save up to 29% off your stay
5%
Extra discount offered by Grecomap
Click on Grecomap's "Book now" button to save an extra 5% off on your stay at Lena Mare Boutique Hotel. Applies to any additional offers.
5%
Extra discount by Hotel's Loyalty Club
This discount is not applied to room rates which you currently see on our website. In order to take full advantage of this additional discount, please join the hotel's Loyalty Club first. Then you should kindly make your booking.