Mykonos Princess Hotel is just a few hundred meters NW of Mykonos's port. Midway between the hotel and the port of Mykonos is Agios Stephanos Beach, a couple hundred meters away and one of the closest beaches to Mykonos Town. This elegant 5-star hotel sits on a low promontory, affording a magnificent view of Mykonos Town's harbor and, across the way, they cube-shaped, whitewashed buildings of the town itself.
Seven km. in the distance are the headlands of Delos, ancient Greece's sacred isle, a haunted, uninhabited place of mystery and ruins.
The hotels' main pool, as well, gives you a nice view of the sea and the town. Rooms are ultra-modern, with every conceivable amenity and convenience, a full-service spa, and a completely equipped fitness center. You can enjoy your al a carte breakfast either in the main dining room or at poolside. The hotel gets high marks for its friendly and attentive staff, its cleanliness and comfort, its bang for the buck, and its location. The hotel is in part pet-friendly.
Particularly, guests loved the lovely view, quality of the food, the convenience of the hotel's shuttle service from the island's arrival points, the sizeable, tastefully decorated rooms, and the attention to detail in such things as the welcoming and departing gifts.  
Rooms
Except for the entry level double rooms, rooms are comfortably spacious. There's still plenty of space in the double rooms, however. Décor majors on whites and beiges, and off-white, giving a relaxing impression. Generally, rooms are clean, roomy, and full of light, which is traditional with Cycladic homes. Many rooms afford splendid views of the water and the island.
Rooms often have discrete slatted wood dividers between the sleeping area and the rest of the room, free-standing, rectangular sinks, and traditional decorative elements such as earthenware water vessels, floating bedside tables, wooden drying racks in the bathroom area, and furnished, large, partially shaded balconies, usually with wonderful views.
Standard amenities include sofa bed, safe deposit box, pet amenities, dental kit, beach bags and towels, bathrobes and slippers, cable and satellite TV,  bathroom scale, loofah back scrubber, electric kettle, espresso machine, hairdryer, iron and ironing board, a la carte breakfast, welcome treat upon arrival, safe deposit box, and lots more.
Double Rooms
Double Sea View rooms come in a variety of sizes. The bed is close to the balcony door, allowing you to view the sea and Mykonos Town at first light and at sunset.
Superior Double Sea View rooms are a bit larger than the Double Sea View Rooms, with a similar layout: slatted wooden divider between the sleeping area and the sink area, bed located near the balcony door, lots of nice wooden touches in the furniture, and a really nice view of the sea and Mykonos Town.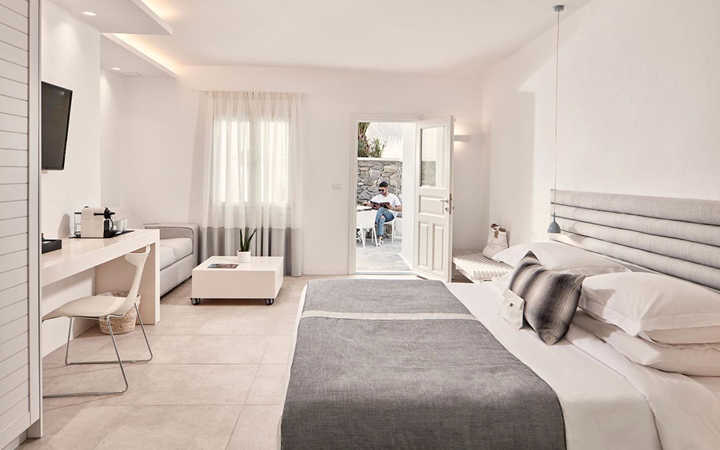 Junior Suites
Junior Suites are a step up from the Double Rooms in size. They feature floor to ceiling accordion-style closet doors, an open sink area near the bed with opaque glass shower doors next to the sink, a comfy sitting area with a small sofa bed and sturdy wooden coffee table, and a stone wall-enclosed privacy patio. Sleeps up to 3.
Junior Suite Sea View offers either king size or twin beds, from which you can relax as you watch the movements of the sea, and, in the evening, the twinkling lights of Mykonos Town as they come on in preparation for a night of activity and parties. Room varies in size, but due to the layout, you'll see that there is not a great deal of difference, and you and your significant other will be quite comfortable. Sleeps 2.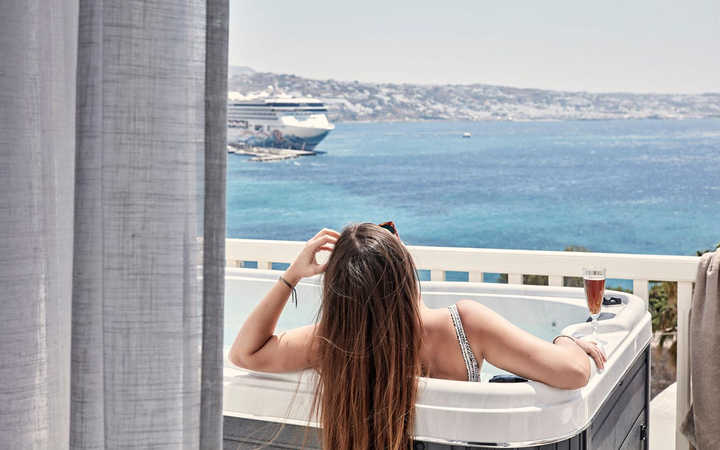 Hot Tub Rooms
Honeymoon Outdoor Hot Tub Sea View Suite (Honeymoon Jetted Tub Sea View Suite) is graced with a large four-poster bed, blond wood flooring, and sturdy wooden white furniture. It's designed for young couples in love and newly married to help provide an unforgettable environment for those first magical days as a wedded couple. 28m2 (300 sq. Ft.). Sleeps 2.
Deluxe Outdoor Hot Tub Sea View Suite (Deluxe Jetted Tub Sea View Suite) is an exceptionally spacious accommodation with a large, open balcony opening up to a wide lens panorama of Mykonos Harbor, the open sea beyond, and the island of Delos in the distance. It has a king size bed, with a sofa bed available. Relax in the soothing, massaging waters of the jetted tub as you take in the view and sip on a glass of chilled wine. 40- 45m2  (430-485 sq. ft.). Sleeps 3
Princess Outdoor Hot Tub (Jetted Tub) Sea View Suite is a huge suite which will comfortably accommodate up to 3 guests. It has a comfortably large balcony with a roomy jetted hot tub, just the thing for relaxing in after a workout or a day on the beach. There is a great panorama of the surrounding area in this top floor suite, where you can get plenty of sun without ever leaving your room. (40-50m2 (430-538 sq. ft). Sleeps 3.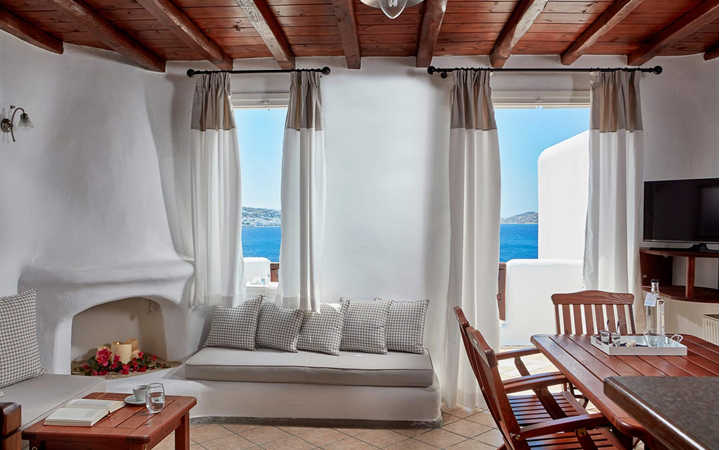 Houses
Two Bedroom Traditional House is a complete home away from home for a group of six. It features a bi-level layout, 2 bedrooms, an open plan living room with sofa bed, and a smaller living room with a sofa bed. There are 2 bathrooms. There is a completely equipped kitchen on the upper level. Upper level features a balcony with its wonderful views of the sea and surrounding area.
110m2 (1,183 sq.ft). Sleeps up to 6.
Three Bedroom Traditional House is, at 125m2 (1,345 sq. Ft.), as large as it gets at Mykonos Princess. It has 2 king size beds and 2 twin beds. Layout is on 3 levels, with a veranda and garden on the lower level,  master bedroom and a second bedroom, bath and shower, and veranda with a garden view on the middle level, and a roomy living room with fireplace, full kitchen, WC and spacious veranda partially walled in in the Cycladic style whitewashed, soft-edged wall and a beautiful panorama of Mykonos Town, the sea, Delos Island, and Mykonos. Be prepared to be amazed, and to enjoy an unforgettable holiday experience with this house.
125m2 (1,345 sq. Ft.) Sleeps  up to 6.
Food and Drink
Enjoy a meal any time of day at Mykonos Princess's Kapari Restaurant, which can be found at poolside. Kapari Poolside Restaurant is one of the most popular on the island, as well as its companion restaurant, the Kapari Rooftop Restaurant.
In both venues you'll find plenty of locally-sourced ingredients, including catch of the day seafood choices. Gifted Chef Dimitris Tsakmakas and the team he leads would be pleased to please your palate with their culinary offerings, many of which use Mykonian and Cycladic all-natural ingredients. The combination of food, quality wine, and magnificent views make for an unforgettable dining experience.
Breakfast can be had at poolside with a wide variety of choices from the a la carte menu. Breakfast features such standards as farmer's bread, eggs, waffles and pancakes smothered in butter and syrup and topped with fresh fruit, fresh squeezed orange juice, and plenty of coffee and tea.
The Pool Bar is where you can relax, socialize with new friends, and indulge in all kinds of cocktails, mixed drinks beer, wine and soft drinks, as well as nosh on a variety of snacks and sandwiches. Relax by the poolside, take a dip in the water to cool your outside off, then have a drink to cool your inside off.
Spa and Wellness
Your body's needs from head to toes can be met at Mykonos Princess's Ciel Mykonos Spa. Available massages include Jet Lag, which helps to reset your internal clock to the time zone of your holiday, the classic Swedish, and Deep Tissue, which helps relax the muscles and relieve pain.
There are holistic massages, couples massages, and minis spa treatments focusing on the back and neck, face and head, and the feet. There are body scrubs, facials, and a combination of body scrubs, massages, and facial treatments. Multi day packages are also available.
Fitness and Health
Mykonos Princess has a completely equipped gym with a variety of machines and free weights to keep you toned and fit during your holiday. Don't let your holiday become an excuse for abandoning your workout regimen.
Activities
There are all kinds of adventures on tap at Mykonos Princess. You can take a helicopter tour of the island and its environs, enjoy various theme nights during the warm summer evenings, book a tour around the island, go scuba diving, go horseback riding, take a day cruise, and even have your pet looked after whilst you engage in any of these activities.
In the Area
Mykonos is by any measure the most stimulating of the Aegean islands, what with world figures in the entertainment industries who buzz on in, party hearty for a few days, and then fly off to their next destinations. The island has a reputation for openness and tolerance because of its ancient cosmopolitan past as a critical link on Aegean trade routes which bought people from all over the world to her doorstep. In the modern area Mykonos became a base for archeologists who had uncovered ruins on Delos, the sacred island. Delos was uninhabited, so the closest place to stay was Mykonos. Tourism picked up in the 50's-60's when celebrities such as Jackie Kennedy Onassis started to visit. Today the island is packed during the high season, receiving half a million visitors compared to its year-round population of 11,000.
Delos is the closest and by far the most interesting off-island site. Historically, mythologically, and archaeologically, Delos is one of Greece's most important sites. Birthplace of Apollo and Artemis, Delos was a major cult centre, and the goal of pilgrimages for Greeks as far back as 900 BC. Sites on the island include the Terrace of the Lions, the Sacred Lake, the Temple of the Delians, and the house of Dionysos. Only 3km from Mykonos, you could almost swim to Delos.
Mykonos, of course, is famous for its wide-open, somewhat expensive night life. It's a great place to people watch, and celebrity watch as well, seeing as famous people from all over the globe vacation there every summer. The town itself, however, is well worth exploring for its narrow, twisty streets and classic Cycladic, cube-like, whitewashed architecture with its brightly painted doors. Tradition holds that its complex, narrow network of streets were designed that way to confuse pirates. Walking tours are available.
Little Venice, a district famous for its bars and restaurants, and the much photographed row of colorful buildings set right at the water's edge, is a great place to watch the sunset.
The Archaeological Museum of Mykonos has artifacts dating as far back to prehistory. Founded in 1905, it's one of the oldest archaeological museums in Greece.
The windmills of Mykonos are one of the island's most prominent landmarks, and worth a visit. Dating to the 1500's, the mills were built to grind grain, but have now become the island's trademark.
There's lots of other stuff you can do on Mykonos, from walking the island's hiking trails, to visiting the colorful Ano Mera village for a calm respite from the noise of the town, to the peace and quiet of the monastery of Paleokastro, to a visit to the unique Mykonos Vioma Organic Farm, an agricultural oasis of calm in the center of the island.
Rizes Folklore Farmstead, towards the central eastern region of the island, is a 5-acre traditional farming complex whose stated purpose is the preservation of ancient agricultural traditions on Mykonos, it features a working traditional home, workshops, livestock, and farming techniques which sustained life on Mykonos for centuries before the tourist boom. There is a restaurant serving traditional Mykonian meals, a cooking class, and bread making demonstration of offer. Horseland features guided horseback riding with rescue horses. Vioma Organic Farm, Rizes Folklore Farmstead, and Horseland all have their own web sites.
Aghios Stefanos 846 00, Mykonos
Special Offers
Book your stay directly from the official website of Mykonos Princess Hotel and save:
5%
Extra discount offered by Grecomap
Click on Grecomap's "Book now" button to save an extra 5% off on your stay at Mykonos Princess Hotel. Applies to any additional offers.
10%
Extra discount by Hotel's Loyalty Club
This discount is not applied to room rates which you currently see on our website. In order to take full advantage of this additional discount, please join the hotel's Loyalty Club first. Then you should kindly make your booking.