Pnoé Breathing Life is an interestingly-named wellness hotel just a stone's throw- well, a few km- east of Heraklion's Katsanzakis International Airport. The resort had its debut season in 2023. It promises a different take on your holiday experience: one more grounded in the natural shapes and rhythms of life.
That's why this wellness hotel's predominant colour schemes throughout are earth tones, with a lot of dark brown in the mix. The resort is a complete remodel of a previous facility. Interior design company Cubic Concepts brought the buildings to a state of readiness in a record 10-month period from blueprints to finished product. They accomplished this in a country that can spend years on building projects by having all of their designers, architects, and contractors under the umbrella of the one company.
Building materials include local stone to firmly root the resort in its locale, imported tile from Italy and Spain, and subtle use of the old building in the geometric design of some walls. The resort has 60 suites. Of special note is the Reception, which is accessed through floor-to-ceiling wooden shutters, and lead you onto a view of much of the hotel, which is inward-looking, with the central pool as its focal point, creating an intimate, personal, embrace-like sensation, which was the exact goal of the designers.
Buildings are low, with long roofs which create parallel lines with the horizon at the sea to the north. There are a lot of louvered windows and large skylights divided by small wooden beams which cast an interesting pattern of barred light and shadow. This all adds to the sensation of the parallel of the buildings.
Guests give Pnoé Breathing life high marks for its tranquil atmosphere, for its attentive staff, its beautiful design, the food (especially breakfast), and, most of all, its caring and attentive staff which always seemed willing to go the extra mile.
(Just for the record, the resort's name, rendered in English, is "Breath Breathing Life." And much of being in harmony with nature is teaching yourself to breathe properly; regular, deep breaths that oxygenate the body. This is something you'll find yourself doing naturally at Pnoé Breathing Life.)
Rooms
There are three suite options at Pnoé Breathing Life, which makes things simple- many larger resorts can have up to a couple dozen room/suite/bungalow options to choose from. Room décor, like the rest of the resort majors on earth tones, with a lot of dark browns featured. The design is beautifully minimalist, which, combined with the calming effect of the colour scheme, helps you to relax and feel fully at home. Each suite has a private, heated pool, a big plus. Pools are enclosed by fieldstone privacy walls. Room details include a floating desk, lots of slotted, vertical wooden dividers, and comfortable upholstered sun beds near the pool.
Room amenities include a 50" satellite mirror TV with music channel options, wireless chargers near the beds, wireless phone, flexible room lighting schemes controlled by you, electronic safe, daily refilled coffee and tea making options, nespresso machine, walk-in rain shower, bathrobes and slippers, pool towels, hair dryer, and bathroom scale, amongst others.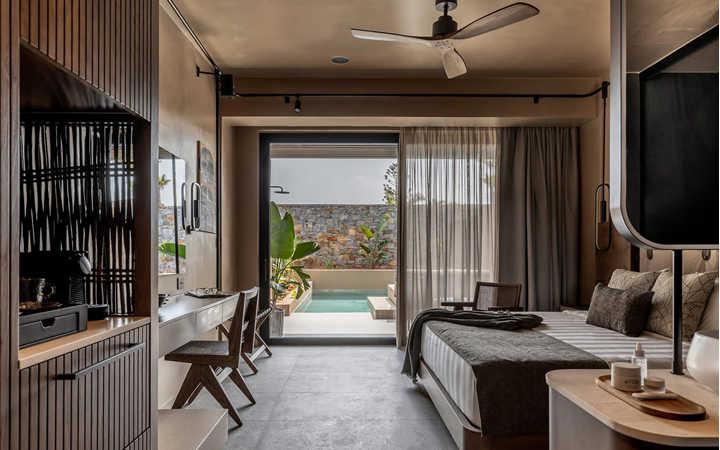 Breeze Suite with Private Pool
The Breeze Suite is the coziest of the three types of suites on offer. Still and all there's plenty of room for you and that special someone to spread out and enjoy yourselves. The pool, just steps away from the sliding glass doors, is heated and completely private.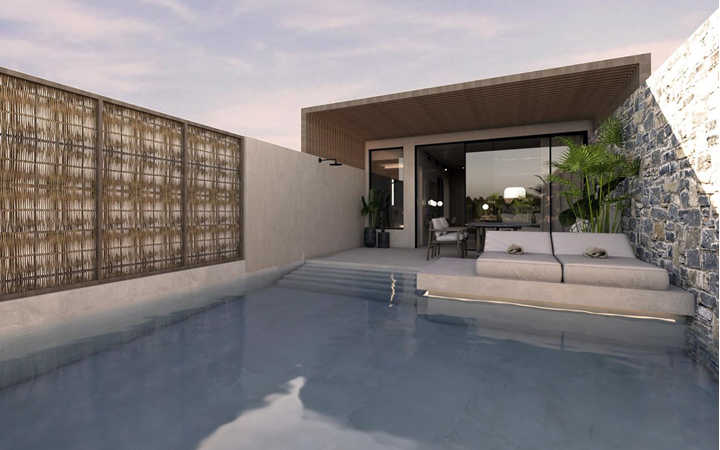 Breathe Suite with Private Pool
Quite a bit roomier than the Breeze Suite, the Breeze Suite with Private Pool can sleep an extra guest. It has a walk-in closet, a king size bed, and a sofa bed for the third guest.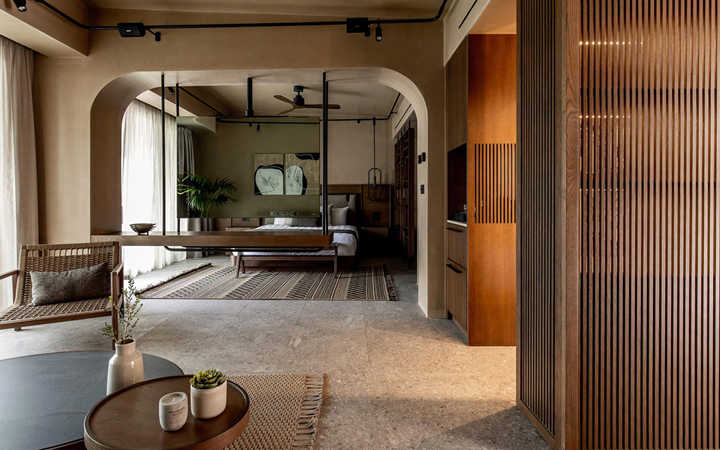 Signature Suite with Private Pool & Sauna
This largest suite on offer sleeps up to 3 adults. It has a large heated pool, and as an added bonus, its own sauna. It has a side-by-side master bedroom and a separate sitting area with a sofa bed. Sauna occupies a corner of the suite.
Food and Drink
The Anasa Restaurant ("Anasa" means "pause for breath," like you do when taking a break from working out) is the resort's main food venue.
You get an international-style breakfast buffet to the accompaniment of soft, live music, and a dinner buffet featuring both international and Mediterranean cuisine. There's show cooking, so you can see exactly how your meal is prepared. Meals are, as much as possible, locally sourced, using organic ingredients.
The Thymises Restaurant features Cretan cuisine at its finest. Evening meals has show cooking of various traditional Cretan dishes cooked to perfection. Some notable offerings include Cretan organic salad, smoked ham, grilled bream in fig leaves, slow-cooked roast goat with yogurt, and smoked pork chops. During the daytime light lunches, snacks, and sandwiches are on offer.
The Aeri Pool Bar gives you to opportunity to indulge in signature cocktails, choose from a whole range of juice options, or enjoy your favourite soft drink, mineral water, or beer from the convenience of the poolside at the main pool.
For memory-making summer sunsets, the Uranos Rooftop Bar provides a panorama of the Sea of Crete and the surrounding landscapes while enjoying your evening drink. As an added bonus, fresh sushi is on offer, as well as a variety of cigars and shisha (hookah) flavours.
Spa and Wellness
The beautifully designed Pnoé Spa offers 4 state of the art massage and treatment rooms and various dedicated areas, such as the wet area with indoor waterfalls, and a relax area with Himalayan salt stones. There is a hammam (Turkish bath) and a sauna, with a suggested follow-up at the round ice fall area. There is a beauty salon where you can take care of your beauty needs from hair to toes.
Treatments break down into several categories, such as face treatments, luxury facials, body treatments and rituals, a whole host of massage options, couples' wellness options, and beauty services. There is also a digital wellness coach available to help you craft the ideal spa experience according to your needs.
In addition, there are recovery programs such as Hyperbaric Oxygen Therapy, which infuses your body with 50% more oxygen. The result is an accelerated healing process and a reversal of the ageing process. This therapeutical treatment takes place in a hyperbaric chamber, a capsule in which massive amounts of oxygen are pumped. Hyperbaric chambers are a favorite of professional athletes treating sports injuries. There is the zero gravity floatation system, allowing you to enjoy a zero gravity environment in 400 litres of warm water whilst listening to relaxing music and practicing various breathing techniques with the goal of relaxing both the mind and the body.
There is also a complete, ultra-modern fitness center with free weights, exercise machines that monitor your vitals, and the guide and advice of professional trainers.
Activities
Explore.gr is a partner with Pnoé Breathing Life and provides you with all kinds of outdoor activity options. Explore.gr specializes in alternative outdoor activities. There are canyon hikes, climbing, river treks, private sailing experiences, visits to off the beaten track destinations, and a variety of activities not available to the average tourist. There are V.I.P. safari tours to Knossos, southern Crete, Matala beach on the south coast, and a wine and olive tasting tour, amongst many others.
In the Area
Just a few km to the west of the resort is the fascinating capital city of Heraklion, which has a fantastic archeological museum and natural history museum, a beautiful harbor and Old Town, as well as a 16th century Venetian fortress. Near Heraklion is the Palace of Knossos, the thriving center of life of the Bronze-Age Minoan Civilization until it was all wiped out by the Minoan Eruption on Santorini and its subsequent tsunami, when 60 cubic kilometers of rock- about half the land mass of the island- was flung into the atmosphere just 120 kilometers to the north.
For a family-style outing, Crete has a lot of water parks, including Acqa Plus just outside of Heraklion, which advertises itself as the biggest and best on the island, and Star Beach Village, east of Heraklion about 15 km. Crete also has some nice aquariums, including Cretaquarium Thalassocosmos in Gournes, 10 km east of Heraklion, and Aquaworld Aquarium & Reptile Rescue Centre in Hersonissos, about 10km east of Pnoé.
If it's night life you're seeking, Malia is about 20km to the southeast of the resort, and is famous for its raucous night life and binge-drinking bar tours, which can get a little out of hand- so be careful.
While Hersonissos (10km to the east) is tourist-jammed, Ano ('Upper") Hersonissos is a much quieter hilltop village within easy reach of the sea. It's also known as Palio ("Old") Hersonissos, while the coastal version near the resort is known as Nea ("New") Hersonissos. Actually, "New" Hersonissos is actually quite old. It was a settlement during Minoan times (2600-1600 BC), rebuilt after its destruction in the Minoan Eruption in 1600, and did well during the Roman and early Byzantine eras. The village shifted up the hill to its present location in the 400's because of repeated pirate raids and earthquakes.
Ano Hersonissos is a quiet, quaint place, away from the crowds of the lower town, but still close enough to enjoy its beaches. Its picturesque stone houses with their outdoor ovens make for nice little walking tours in the village. The tavernas are crowded with both locals and tourists enjoying the famous Cretan cuisine and local vintages. The main square is often host to weekly evenings of traditional music and dancing.
These are a few of the closer options for day trips in the area of Pnoé Breathing Life. Other, longer day trips are possible as well, but require more time to be budgeted. As you can see, there are lots of places close by to Pnoé Breathing Life which will enrich your stay at the resort.
Karteros Beach 715 00, Heraklion
Special Offers
Book your stay directly from the official website of Pnoé Breathing Life and save:
Book in advance and save up to 14% off your stay
5%
Extra discount offered by Grecomap
Click on Grecomap's "Book now" button to save an extra 5% off on your stay at Pnoé Breathing Life. Applies to any additional offers.
12%
Extra discount by Hotel's Loyalty Club
This discount is not applied to room rates which you currently see on our website. In order to take full advantage of this additional discount, please join the hotel's Loyalty Club first. Then you should kindly make your booking.