The Aenos 4-star luxury boutique hotel in Kefalonia simply oozes history. Built-in 1780, this three-storey mansion in Argostoli Square was the ancestral home of the Metaxas family until 1847 when it was converted into a hotel. It was in fact, the first and only one on the island at the time and continued to operate until the beginning of World War II. During the Italian Occupation, the property was commandeered and used as a Naval Officers Club. After the liberation, it was once again rented as a hotel until 1953. Alas, the catastrophic earthquake of August in the same year razored it, while a subsequent fire destroyed everything that had been left intact. Aenos reached its novel incarnation in 1975 when the family decided to refashion it with due respect to the local, vernacular architecture. Some 20 years later, in 2017, the new generation of Metaxas' radically renovated the building, modernizing its facilities in line with the latest environmentally friendly technologies and comforts.
Behind the suitably grand-looking facade, you'll find a sumptuous interior with chic furnishings, marble floors, and tailor-designed pieces.
Rooms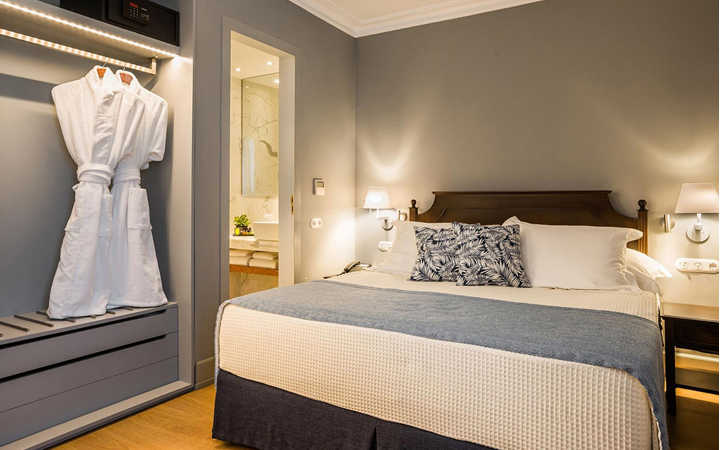 Rooms are individually designed; with minimal chic furnishings and all the little extras that make your stay memorable. Spacious, light, and airy, they sport sizeable Dunloppilo beds with snug duvets and pillows, chic marble bathrooms stocked with luscious amenities, comfy day beds, and writing desks for those who want to get productive.
Food and Drink
Offering stylish accommodation and fine dining, in a friendly welcoming environment, the Aenos 4-star luxury boutique hotel in Kefalonia appeals to travelers who prefer something more exclusive and personal than just another typical hotel.
With an enviable location at the heart of Argostoli's main square, the Aenos 4-star luxury boutique hotel in Kefalonia is within walking distance from most major sights and attractions, including the Archaeological Museum and Korgialeneios Library. The lively shops, cafes, and bars of the pedestrianized Lithostroto area are also just a lovely short stroll away – and if you are lucky enough, you'll come across a local band playing the characteristically exuberant, Italian-influenced traditional Kefalonian songs. What's more, the neighboring promenade, lined with palm trees and paved with pebbles from the beach, is a walker's paradise, with a distinctly romantic vibe.
Vallianou Sq., Argostoli, Kefalonia 281 00
Special Offers
Book your stay directly from the official website of Aenos Hotel and save:
Book in advance and save up to 30% off your stay
5%
Extra discount offered by Grecomap
Click on Grecomap's "Book now" button to save an extra 5% off on your stay at Aenos Hotel. Applies to any additional offers.