Inspiration comes alive at Celestial Hotel Kefalonia nestled within the lush green forest of Mousata only a few meters away from the emerald Trapezaki beach, a luxe outpost in Kefalonia made for a stay unlike any other. Nestled within the lush landscape of Mousata Village, our luxury boutique hotel is an oasis of design, personalized service, and modern amenities for well-seasoned adventurers and discerning travelers.
Rooms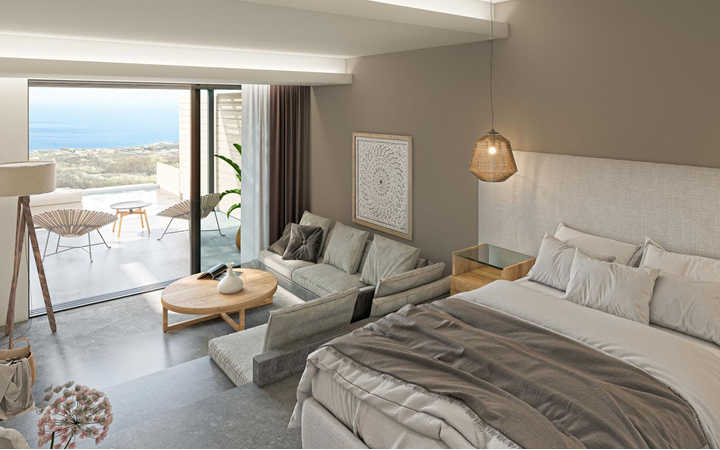 Our 40 suites are a dream for those searching for luxury, seclusion, and serenity, with private pools and living spaces perfect for enjoying the finer things in life. Each one features an understated chic vibe with eclectic furnishings, light textures, and colors, offering unprecedented location, style, and design that weaves the hotel's unique character into the very fabric of your stay.
Food and Drink
Florencia is the contemporary main restaurant of Celestial Hotel, serving Mediterranean cuisine and creating dishes that sing with flavor. Pairing luxury surroundings with the finest culinary experiences, dining in Florencia will satisfy all the senses.
The restaurant offers a creatively elegant a la carte menu, ingredients are sourced locally ensuring fabulous fresh fish and seafood, a culinary experience not to be missed. To top it all off, there's also a stellar wine list and a gorgeous terrace by the pool for outdoor dining. 
Trapezaki Beach, Kefalonia 281 00
Special Offers
Book your stay directly from the official website of Celestial Hotel and save:
Book in advance and save up to 28% off your stay
5%
Extra discount offered by Grecomap
Click on Grecomap's "Book now" button to save an extra 5% off on your stay at Celestial Hotel. Applies to any additional offers.