The Fava Eco Suites is housed in a group of splendid captain houses of the mid-19th century, located at the highest point of the traditional village of Finikia. The architects and owners of the property renovated it with love and transformed the property into a spacious and modern, though with respect to the original traditional form, a complex of summer houses. Today, the villas offer their hospitality in individual fully furnished self-catering apartments of various sizes and aesthetics. They offer a sense of 19th-century history, combined, and harmonized with modern amenities, located in the heart of the most picturesque and virgin tourist development village on the island.
Fava is just a stone's throw from the magnificent Oia and away from the crowds and noise. During the reconstruction, there have been used methods following the bioclimatic sustainable vernacular architecture and materials which are eco-friendly with low embodied energy. All houses have wonderful views over the village, the famous sunset of the island, and the Aegean Sea with the closeby Ios, Sikinos, and Folegandros islands on the horizon.
Rooms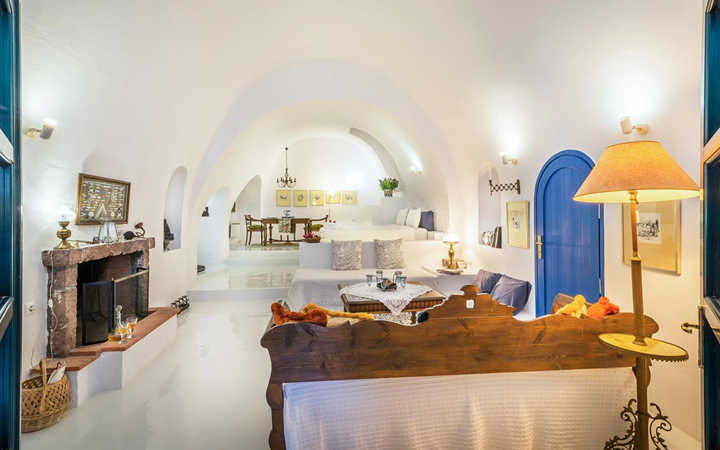 Family Suite
It is a mansion, exquisitely decorated with antiques, and a luxurious cave apartment of 58 m² areas with a high arched of 5 meters height that can accommodate up to 4 people.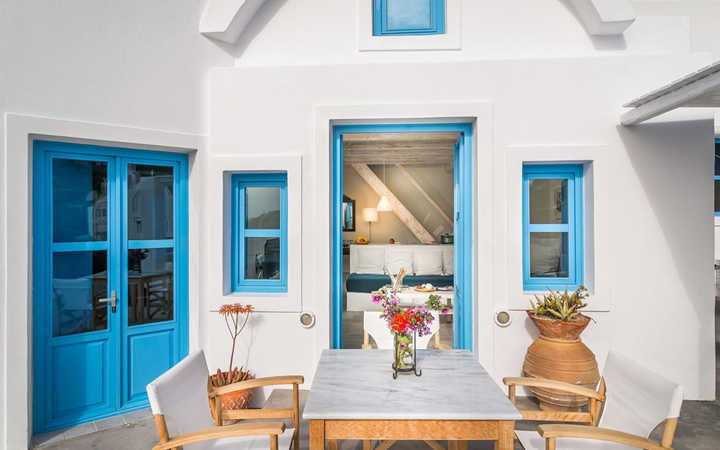 Honeymoon Suite with Outdoor Private Jetted Tab
It is a romantic, decorated with antiques, and a bright traditional 46 m2 apartment that can accommodate up to 4 people. It has one bedroom and two sofas with a living-dining area and bathroom with shower and a separate kitchen and offers access to a private courtyard featuring a private jetted tub with magnificent views of the Aegean Sea and the sunset.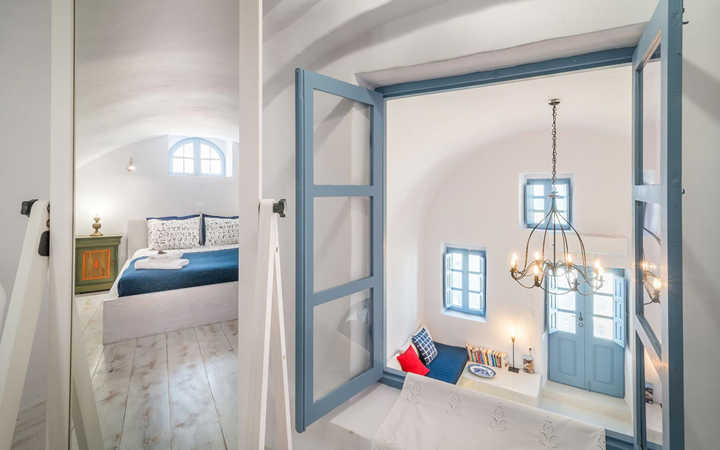 Grand Suite with Outdoor Private Jetted Tab
Picturesque and simple detached house with a total area of ​​80 sq.m. with a private courtyard and an outdoor jetted tub with wonderful views of the sea and the sunset.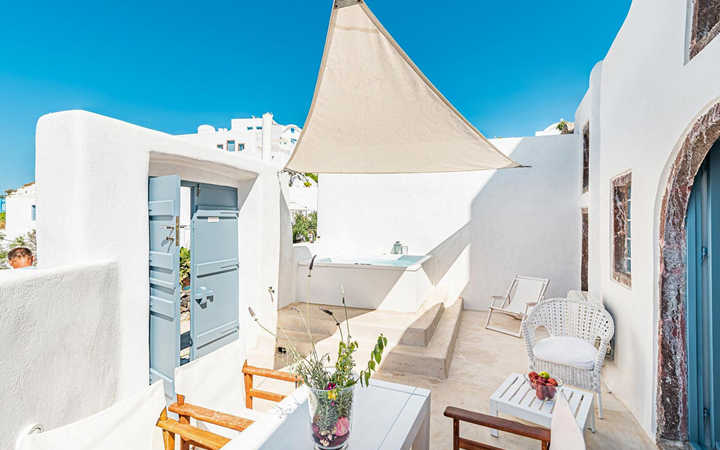 Master Suite with Outdoor Private Jetted Tab
A magnificent and fully renovated traditional residence of 90 m2 total interior space with a central living room complete with 3 fully autonomous bedrooms with 2 double queen-sized beds and 1 with 2 single beds with cloakrooms.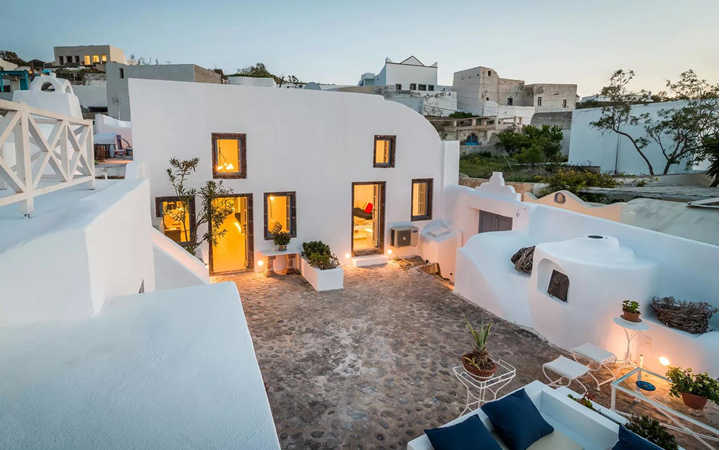 Villa Aegeo (up to 9 pax)
The property has a large and a small kitchen as well as two full spacious bathrooms with showers. Its exterior area consists of a large courtyard with a seating area and a lovely roof garden with a jetted tub and panoramic views of the sea and the sunset.
Finikia Village, Santorini 847 02
Special Offers
Book your stay directly from the official website of Fava Eco Suites and save:
Book in advance and save up to 40% off your stay.
5%
Extra discount offered by Grecomap
Click on Grecomap's "Book now" button to save an extra 5% off on your stay at Fava Eco Suites. Applies to any additional offers.
5%
Extra discount by Hotel's Loyalty Club
This discount is not applied to room rates which you currently see on our website. In order to take full advantage of this additional discount, please join the hotel's Loyalty Club first. Then you should kindly make your booking.