Enter a paradise of tranquility at Ilio Mare Resort, ideal for both families and couples who seek supreme relaxation and extraordinary services during their long vacation. Ilio Mare 5-star Resort in Thassos island emerges through the tropical palm trees and the turquoise waters of its golden coast, inviting you to a world of luxury and calmness.
Rooms
Choose among 137 elegant rooms and suites, artfully inspired by colonial architecture and grandeur. Dive into the rejuvenating waters of the hotel's pools and enjoy the aroma of the blossomed gardens. Feel in awe at the view of the sunset and end your day with a candlelight dinner on the beach.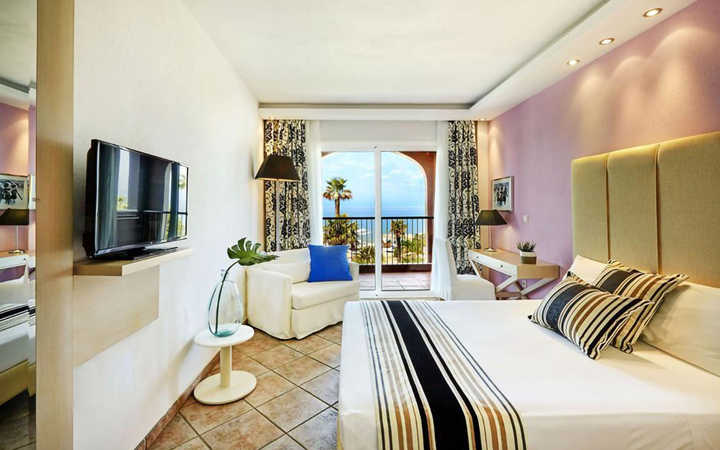 Classic Double
All double classic rooms are decorated, with soft colors and smooth cool fabrics, creating a leisurely mood. All with a double bed, and an elegant small sitting area. Balcony or veranda with views to lush gardens and exotic "Coy" fish pond or an amazing sunset and Kavala gulf view.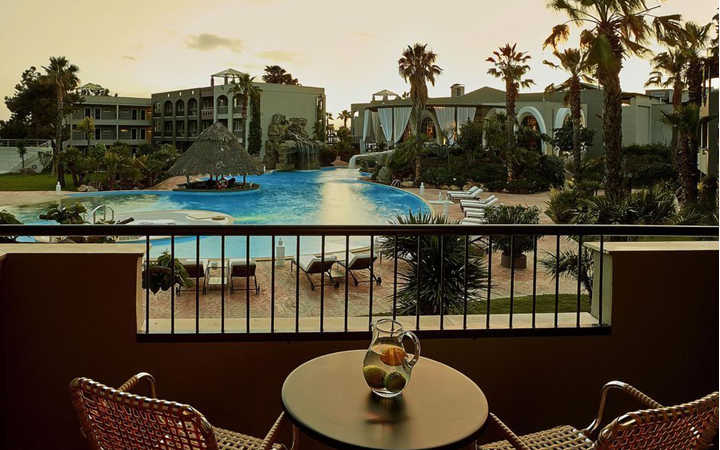 Junior Suites
The Junior Suites offer an exceptional environment of refined aesthetics. They are spacious and tastefully decorated. They have a king-sized bed and comfortable baths or showers with toiletries. The balconies and terraces of the Junior Suites overlook the lush gardens with shady trees or a magnificent view of the sea.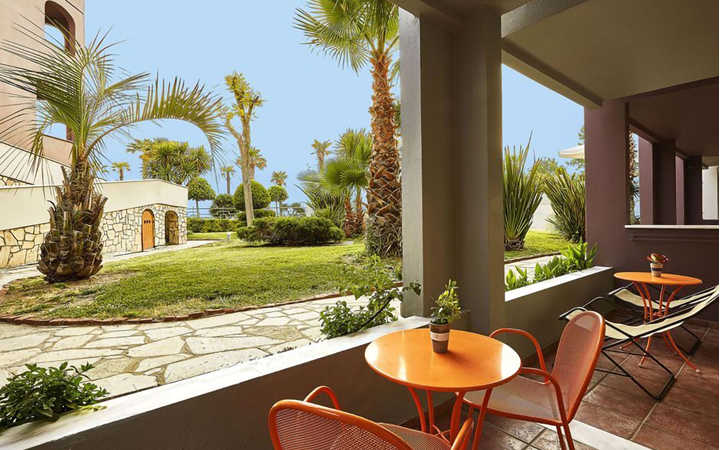 Family Suites
Family suites located among plush gardens and an exotic fish pond with Koi fish, ideal for families seeking relaxation, ensure space and comfort featuring. Recently renovated with beautiful mirrors blue and beige linen and marble spacious bathrooms. Balcony or veranda with a view of the lush gardens.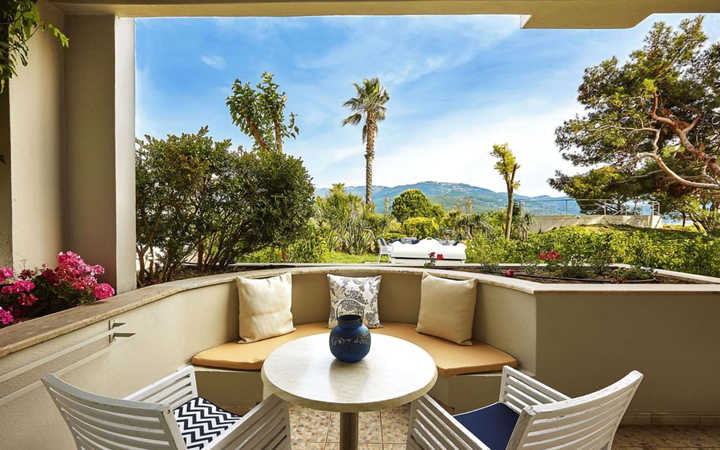 Deluxe Suite
Located in a seafront building surrounded by Palm trees, face the turquoise waters and the famous Ilio Mare sunset, offering luxurious accommodation and supreme comfort. Those Suites is spacious and recently renovated with thick curtain panels that separate the double-bedded bedroom from the living area and a pullout sofa bed. All with two spacious balconies and lounge furniture.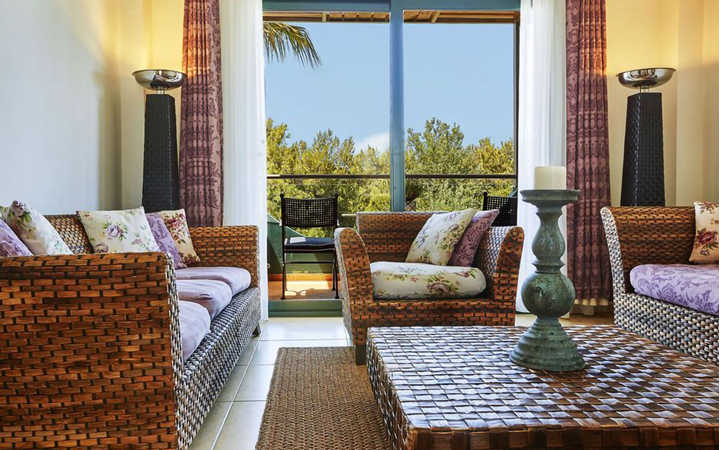 Honeymoon Suite with Side Sea view
With sweeping sea views and exotic ambiance, the spacious and luxurious executive suites, are among the most exclusive on the island. Those ultra-spacious exclusive hideaways are perfect for couples. Our honeymoon room is assured to provide you with a memorable stay with the sensuous ambiance it encompasses.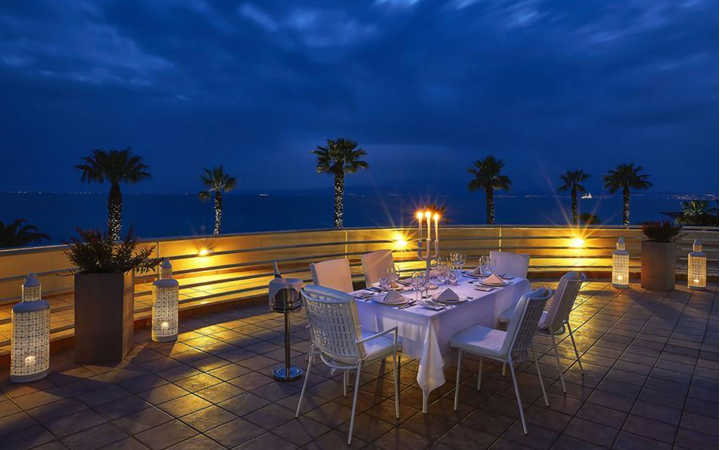 Master Suite with Terrace and Panoramic Sea View
The Master Suite with Terrace in front of the golden beach offers a privileged view of the crystal-blue waters and the enchanting sunset. An ideal choice for couples seeking a romantic getaway. Their smart layout separates them into a bedroom and a lounge area, where you will find a comfortable sofa bed. The most spectacular Panoramic Sea View of the island is exclusively secluded on the private terrace.
Food and Drink
Explore high-end cuisine at the celebrated Lagoon restaurant, rejuvenate yourself in the Ilio Mare Spa, and organize thrilling activities in Thassos. Let the children have incredible fun in the kids' specially designed facilities area as you relax by the pool or in your recently renovated room. Ilio Mare is the perfect hideaway for all who seek luxury and comfort.
Special Offers
Book your stay directly from the official website of Ilio Mare Hotel and save:
Book in advance and save up to 9% off your stay
10%
Extra discount offered by Grecomap
Click on Grecomap's "Book now" button to save an extra 10% off on your stay at Ilio Mare Hotel. Applies to any additional offers.
10%
Extra discount by Hotel's Loyalty Club
This discount is not applied to room rates which you currently see on our website. In order to take full advantage of this additional discount, please join the hotel's Loyalty Club first. Then you should kindly make your booking.
Book your stay directly on the official website and enjoy the extra benefits:
10% Off on all wellness treatments
Free use of beach umbrellas
Free use of tennis & beach volley court (daytime)
Free water sports upon availability (non-motorized)