About a forty minutes from Thessaloniki's Macedonia International Airport, Pomegranate Wellness Spa provides a rare combination of intimate setting, premium service, accommodation, food, recreation and entertainment sure to please the most discerning holiday maker.
About a km north of the Xerxes-built, fifth century BC Potidea canal on Halkidiki's Kassandra Peninsula, the Pomegranate is built on a neck of land so narrow that you get two views of the sea, west and east, for the price of one.
This iconic 5-star hotel is one of the finest in the entire country. The Pomegranate features a huge infinity pool, a lagoon pool, three top-notch restaurants, four bars, a night club, and the most extravagant musical fountain and laser show in the entire Balkans. Also on offer is the world-class Afrodita Roa Spa. 
Rooms
Boasting 172 luxury rooms and suites in three buildings interconnected by pathways and meticulously landscaped gardens, Pomegranate Wellness Spa and Hotel offers beautiful, well-designed, functional rooms. Rooms have beds with memory foam mattresses, dressed marble bathrooms, hydro massage bathtubs, and Apivita bathroom amenities, as well as spacious balconies giving off to panoramic garden or sea views.
Elegant Rooms
There are 130 large rooms divided into three categories. Rooms are constructed of the finest building materials, fabrics and fittings, arranged in classic Mediterranean-style interior configurations. Furnishings are custom designed and include queen and twin beds, plush, comfortable sofas, and office desks. The three room categories are: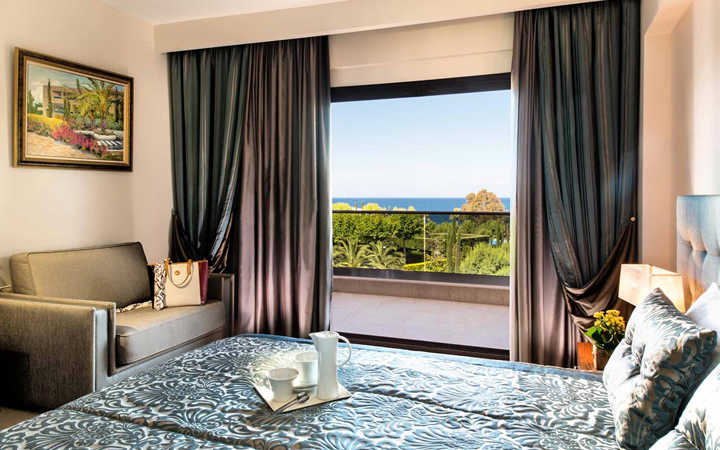 Elegant Economy– 6 rooms in the main building, with eastward views of Toroneos Gulf and the main road. 30m2  SLEEPS 3 (2+1)
Elegant Garden View– 83 rooms fronting the various garden sites of the resort. 30m2  SLEEPS 3 (2+1)
Elegant Side Sea View – 41 rooms featuring balconies with large sitting areas and westward  views of the Aegean Sea and Mt. Olympus, or eastward views of Mount Athos. 30m2  SLEEPS 3 (2+1)
Luxury Suites
28 luxurious suites in three categories (Junior, Standard and Superior Junior), all feature carefully designed spacious living areas, luxurious king-size beds and modern bathrooms. Ideal for those seeking extra space and comfort for their holidays.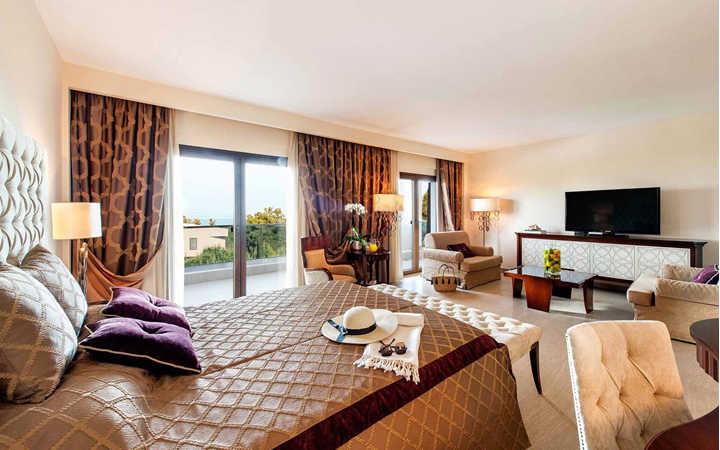 Junior Suite
12 suites featuring A large open floor plane which combines bedroom and living areas. Décor features earth tones and subtle gold highlights. Junior suites overlook the beautiful, landscaped gardens of the hotel.
44m2  SLEEPS 3 ADULTS, OR 2 ADULTS AND 2 CHILDREN.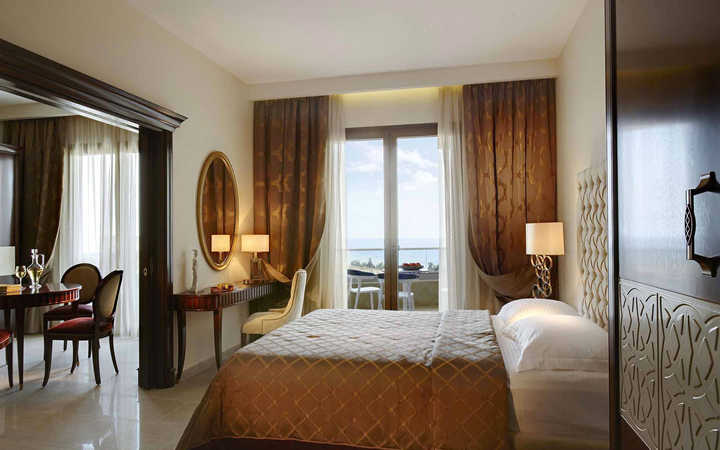 Standard Suite
8 suites with separate living and dining areas. Beautiful side sea views or garden views. Down duvets and pillows, richly upholstered, dark-finish furniture.
59m2  SLEEPS 4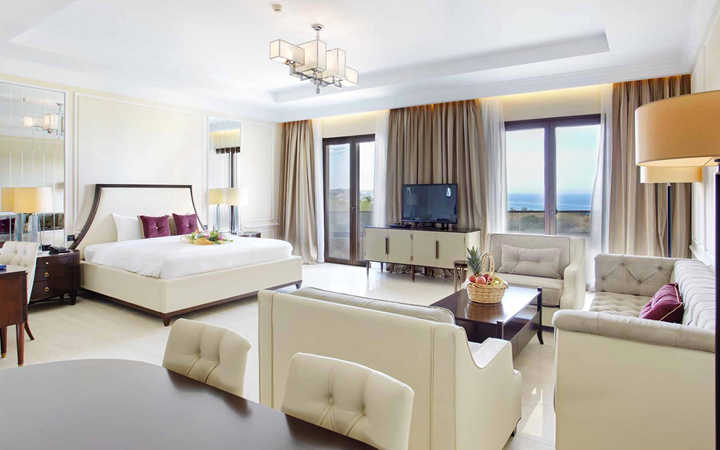 Superior Junior Suite
5 suites with off-white and beige color scheme and sea view. Large open floor plan combines bedroom, living and dining rooms. Spacious bathroom with twin vanity units and walk-in rain shower system.
65m2  SLEEPS 3
Prestige Suites Collection
The Prestige Collection includes luxury Family Suites and eight exclusive thematic suites, each with its own unique design and amazing views. Ranging from 60 to 160 sqm, these suites are designed to meet the highest client expectations. Modern bathrooms come with luxurious hydro-massage bathtubs and/or walk-in rain shower and toiletries by Chopard & Hermes.
Some of the extras for Prestige Collection guests include the in-suite express check-in, a welcome package (champaign, fruits and sweets) and a private beach gazebo.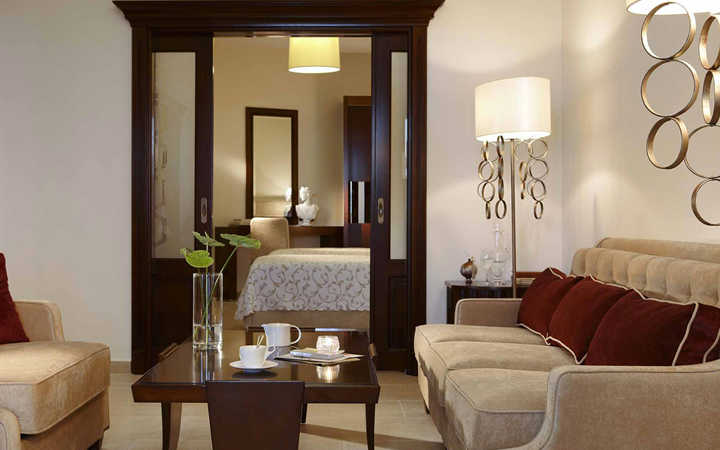 Family Suites
7 suites which are Ideal for families with up to 5 persons. Location is the top floors of the resort, with large balconies and stunning views of the Aegean. The large living area is divided into two separate bedrooms two bathrooms (one with hydro-massage bathtub and one with walk-in shower), and separate living and dining areas. 3 32" LCD TVs.
81m2 SLEEPS UP TO 4 ADULTS, OR 3 ADULTS AND 2 CHILDREN.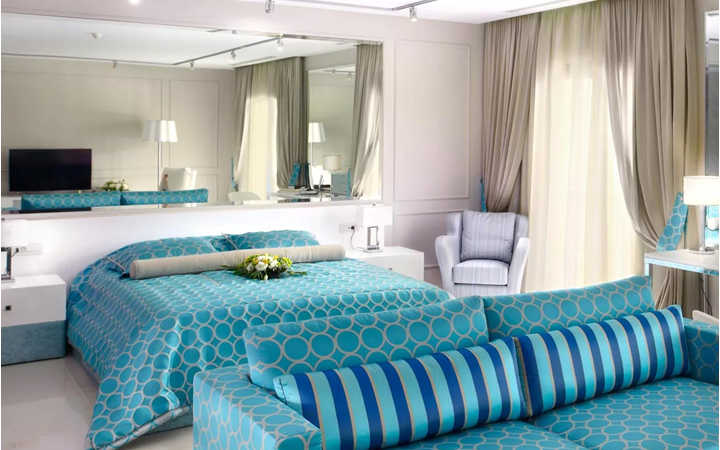 Thematic Suites (7 total)
The open plan Tokyo Suite, designed in aquamarine colors, features an open double shower in a living room area. Exclusively for couples. 62m2 SLEEPS 2
The stylish family-friendly New York Suite with pastel toned decorations, has an extensive balcony with views of the landscaped gardens and water fountains. 103m2 SLEEPS 5 (4 ADULTS, ONE CHILD)
The Ludovicus Suite has an earth-tone décor, two-tome marble bathroom, and unique ruby teardrop Louis XV-style chandeliers. 60m2  SLEEPS 2 ADULTS, ONE CHILD)
The  Moscow Suite has magnificent views over the Aegean towards Mt. Olympus, with a private elevator, huge living room-dining area incorporated in an open floor plan. Both bathrooms are clad in the finest blue-streaked cultured white marble with marble wainscoting. Marble kitchen counter. Two massive bedrooms and a private office. 167m2  SLEEPS 4 (2+2)
The brand name Pomegranate Suite has pride of place in the resort overlooking the Aegean. King-size bedroom and a hand-tooled truncated pyramid headboard. Marble bathroom has walk-in shower and a Jacuzzi. Complimentary limo transport from Thessaloniki airport. Stunning choice for couples in search of the perfect getaway. 106m2  SLEEPS 3 (2+1)
The top-of-the-line Presidential Suite has two bedrooms, a living room, a lounge area including a dining space, and an extra spacious balcony with spectacular views of the Aegean sea. Bathroom has marble-clad walk-in shower and bidet. 160m2  SLEEPS 5 (2+2+1)
The Royal suite is the biggest and best Pomegranate Spa has to offer. Wonderful sea views, comfort and elegance are the watchwords here. Includes private infinity pool. Suite can be subdivided into 4 autonomous suites for group stays. Total: 650m2 SLEEPS UP TO 16
Food and Drink
There are four choices for guests at Pomegranate, all of which offer the best in fine dining. Greek, Mediterranean, international, and sushi are all available. The culinary stylings of Executive Chef Vasilis Panagopoulos and team will give your taste buds a meal to remember and savor for a long time.
The Zeus Main Restaurant, with its open kitchen for guests to follow their meal prep, offers buffet-style locally-sourced Greek products magically transformed into palate-pleasing combinations for evening meals, as well as international cuisine options. Special thematic evenings are a feature with such categories as Greek, Italian, and Seafood nights on offer. Menus are adjustable for special dietary needs (vegan, gluten-free, lactose-free, nut-free, etc). In addition, traditional Greek breakfast items are available featuring the world-famous Mediterranean diet and using farm fresh local products from the region. Zeus Main Restaurant has been awarded certification by the Hellenic Chamber of Hoteliers for its Greek Breakfast menu.
Myrtales ("Myrtle") Restaurant has become a dining favorite of locals in recent years. World-renowned Greek dishes are prepared with a modern twist, using classic foods such as olive oil, Greek salads with feta, ouzo, olives, Greek wines and oregano seasoning provide a link from the restaurant to the beautiful Greek countryside and its abundant and various food products. Pomegranate cultivates its own garden, ensuring eco-friendly produce. 2019 Silver Spoon winner Executive Chef Vasilis Panagopoulos oversees food prep with meticulous care, making sure that every plate taken out of his kitchen is both tasty and so aesthetically pleasing you'll want to preserve it in a photo before digging in. All of this and an inspiring view of Mt. Olympus enhances your dining experience.
Zakuro ("pomegranate" in Japanese) is the hotel' brand new sushi bar, where you can taste authentic sashimi, maki rolls or nigiri sushi, complemented by sake or specially selected wines.
The Roof Garden is a uniquely relaxing to enjoy a la carte restaurants' menu at the comfortably upholstered lounge areas, with breathtaking sunset views towards the sea and Mount Olympus. It can be modified into a party venue for small family dinners, a romantic celebration for two, or a large cocktail celebration.
Bars
The Beach Bar Jason serves soft drinks, beers, coffees, premium ice creams, seasonal fruits and light snacks. You can order with the push of a button directly from your sun bed whilst working on your tan.
Pool Bar Artemis is by side of the new infinity pool. It serves a wide variety of sandwiches, salads, pasta dishes, premium ice creams and fresh seasonal fruits, as well as a complete a la carte menu. Availale for your drinking pleasure are Greek and foreign beers, wines and a wide selection of spirits.
Pomegranate the Club gives guests a touch of Thessaloniki's famous night life, in Halkidiki. The club features celebrity hosts, professional DJs, and music you feel compelled to get up and dance to. The sound system in impeccably clean, and ever-popular LED video walls give the Club that 'underground' club scene feel. Pomegranate the Club is unique to the resort scene in Greece and provides a one of a kind clubbing experience for guests without having to leave the grounds. Craft beers, signature cocktails, and all kinds of mixed and soft drinks are on offer.
The Main Bar Athena can be found in the resort's main building. It's an all-day lobby bar and café suitable for that pre-dinner aperitif or after-dinner nightcap. Indulge in your morning coffee whilst taking in the inner garden fountains, or relax in the plush seating of the inner lounge.
Spa and Wellness
Pomegranate Hotel is considered the best spa hotel in Halkidiki, and a Mediterranean leader in spa destinations. The Afrodita Roa Spa, spread out across 1.800m2 offers impeccable, modern wellness facilities, and treatments that will leave you feeling as if you're living in a brand-new body, with a face as new as freshly-picked daisies.
There are a wide range of spa massages, either in the exotic atmosphere of a treatment room, or in a gazebo by the beach while the sound of the waves on the surf and the fresh sea breeze accompany you on your journey to total relaxation.
There are thalassotherapy body and facial treatments, mineral body wraps, and deep muscle massages. Professional masseuses and consultants offer meticulously individually tailored spa treatments you will always treasure. Daily and multi-day spa packages can be personalized to your needs and desires.
The SpaPark facilities, offered on a complimentary basis, include a seawater indoor swimming pool with 7 relaxation cabanas, Finnish and Russian saunas, the largest byzantine hammam in Greece, various herbal steam rooms, a cryotherapy/snow chamber, mist showers, whirlpool baths, as well as reflexology and mud therapies.
There is also a hair and beauty salon, a fitness room and a professionally equipped gym, featuring Technogym cardio machines.
Activities
Pools and Beaches
Pomegranate offers three pools which perfectly conform to the surrounding topography. There is a zero-edge lagoon style swimming pool, a signature "Mickey Mouse" styled shallow swimming pool and a brand new heated seawater 1.200 sqm infinity pool, close to the main beach. The aqua complex features Jacuzzi tub, kids' pool and a pool bar with bar stools right in the water. All outdoor swimming activities are monitored by a certified lifeguard.
There is a private beach with luxury sunbeds and gazebos, beach bar service, and beautiful views of Mount Olympus across the Aegean. Water sports facilities provide courses and activities for jet ski, water skiing, stand up paddling (SUP), windsurfing, extreme ringo (rafting tubes pulled by a speedboat), parasailing, and boat rental.
Fun for Kids
An experienced animation team daily prepares and supervises a thorough schedule of activities for children and their parents.
The Pomeland Kids Club offers daily animation program, divided into themes of the day
Pirates, Indians, Gods of Olympus
Days of nature, art, superheroes, Olympic days
Every Monday the little guests become real Chefs, honing their skills and knowledge in the preparation of Greek salad, pizza, cookies and delicious pancakes
Sports programs for children includes exercises, darts, mini golf, mini basketball, water games, ring toss, mini bowling, and interesting quests
At the end of the day, a mini disco cranks out modern hits and where kids can do their thing on the dance floor.
In addition, there is a small Greek temple reproduction with English-language entertainment.
Weddings and Honeymoons
An experienced team of wedding experts team will be pleased to help you create a no-frills wedding ceremony or the wedding of your dreams, complete with every essential detail you've always desired.
The Pomegranate Hotel is a perfect setting for an unforgettable wedding, for your honeymoon vacation, or for a romantic getaway in Greece.
VIP Services
The concierge team is available to offer VIP services, including yachts rentals, restaurant and club reservations, transportation and limousine services.