In one of the most beautiful corners of Greece, the northeast Evia, in Agia Anna beach, the Thalatta Hotel Seaside Hotel stands between the green of the pines and the blue of the Aegean.
The sleek, modern architecture soothes the eye and mind; its bare, simple forms define the space, unifying the forest with the sea, signaling the beginning of your holidays. Spacious rooms and suites, large common areas, a big pool, a long stretch of beach, airy restaurants, and lounges: the Thalatta Seaside Hotel Experience is designed to give you and your loved ones the space you need to party, play, to breathe, to relax.
Rooms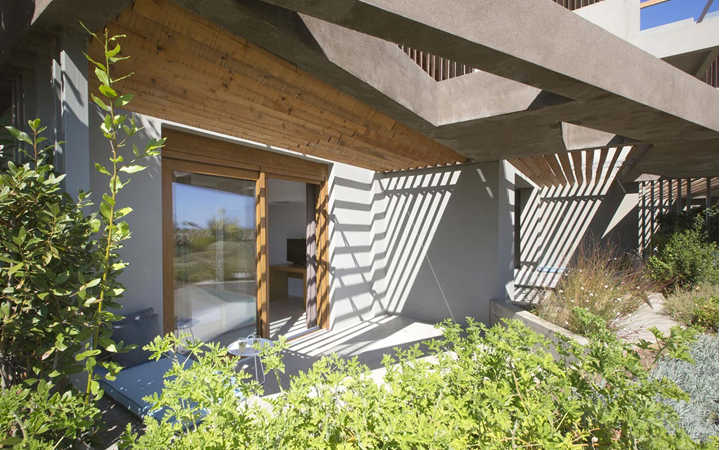 Colorful details against sleek architectural elements understated luxury, and the Aegean Sea views: whether you are looking for a spacious family room or a luxurious suite with your private pool and a private deck to dine on.
Food and Drink
Fresh ingredients, mouthwatering recipes, and the chef's delicate imagination combined, offering a wide variety of choices.
Asado All Day Restaurant – offering a traditional greek a la carte breakfast and an all-day a la carte menu.
Social Seafood by Meze – "Meze" offers the highest quality fresh fish and seafood dishes. And it is "social" since it encourages "sharing".
Slowfood by Baxe – 'Baxe' is located in one of the most privileged areas of the hotel, on the upper-level deck.
Private Dining by Alati – on the beach under the starlight, Alati Prive is waiting to transform your evenings into a private dining unique experience.
Marshmallow Welcome by Exedra – Exedra Lounge is overlooking the horizon and is the perfect place for you to host your private reception.
Sweet, Sour & Healthy by The Pool Bar – pure ingredients, refreshing tastes, and the necessary "mixing noise" will tingle your senses.
Room Dining – for those who don't want to leave the comfort of their room, in-room dining is available.
Pic Nic at Drimonas Waterfalls – only 25 minutes by car from the hotel the setting changes and we are in the deep mountain forest. Drimonas rewards hikers with a beautiful route that ends in a 15m waterfall and pond. Can you think of a better place for a picnic? The hotel's team will prepare it for you or if you wish so you may find it waiting for you as a surprise to your companion.
Fun for Kids
At Thalatta Seaside you can find a dedicated program based on 3 pillars – Fun and education for the kids – Relaxation and privacy for the parents – Creation of meaningful family experiences.
Agia Anna, 34010 Evoia, Sporades