Veranda View is perched on the highest point of the Santorini Caldera, 300 meters above sea level. The view of the Aegean Sea and the Santorini Volcano is mesmerizingly captivating.
Taking in the panoramic view of the island from the Caldera rocks is a unique experience. Santorini's incomparable sunset resembles an oil painting, drawing you into a volcanic landscape like no other in the world.
Rooms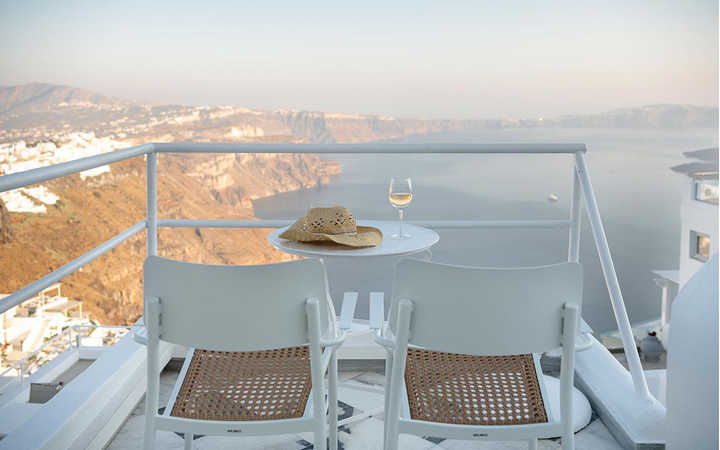 Double Room with Caldera View
The double room with a caldera view covers an area of approximately 15m2. This room type has a master bedroom with a double bed, a private bathroom with shower and amenities, and a veranda with amazing views of the caldera, the sea, and the island of the volcano. Enjoy full relaxation in this room that hosts up to 2 persons.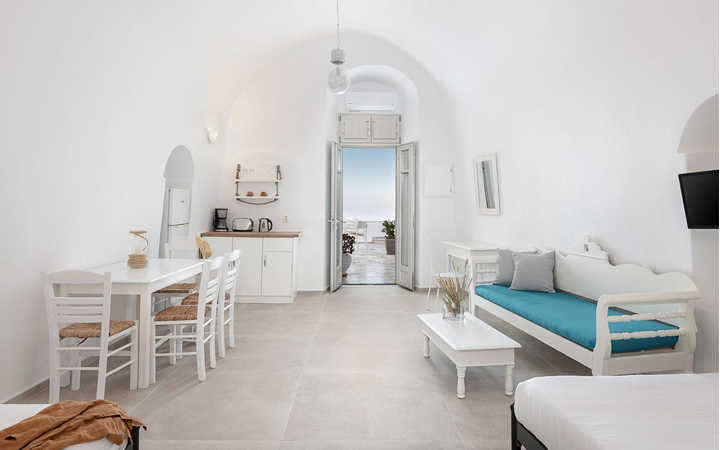 Suite with Caldera View
Enjoy this spacious Suite with a caldera view that covers an area of 50m2. The master bedroom has two double beds and a cozy sitting area. The room offers a private bathroom with shower and amenities and a veranda with breathtaking views of the caldera, the sea, and the island of the volcano. This large suite can host up to 4 persons.
Imerovigli, Santorini 847 00
Special Offers
Book your stay directly from the official website of Veranda View and save:
Book in advance and save up to 5% off your stay
5%
Extra discount offered by Grecomap
Click on Grecomap's "Book now" button to save an extra 5% off on your stay at Veranda View. Applies to any additional offers.
12%
Extra discount by Hotel's Loyalty Club
This discount is not applied to room rates which you currently see on our website. In order to take full advantage of this additional discount, please join the hotel's Loyalty Club first. Then you should kindly make your booking.